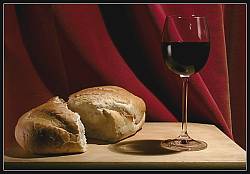 Jesus says: "I am the bread of life."  A familiar saying is: "Bread is the staff of life."  Interesting isn't it that both describe Jesus who is our Staff.    In Scripture the word "bread" is used too for both actual loaves of bread and for any type nourishing food – sometimes to describe a whole meal.
In our community, hospitality very often includes food for the soul at community prayer; and, food for the body at a meal.  Remember the two disciples on their way to Emmaus?  It was in the "breaking of bread" that they suddenly were enlightened.  They thought they had been talking with a stranger but at their meal their eyes were opened.
This weekend, as we celebrate the solemnity of the Body and Blood of Christ, is a good time to dwell on the question of how well we do hospitality.  We know we want to be hospitable, welcoming.  But, more than that, how is God asking us to be "bread" for others?  Our corporate commitment says it succinctly.  We talk about that statement and acknowledge this commitment often … today is a good opportunity to examine it one phrase at a time. [Read more…] about How is God Asking Us to be "Bread" for Others?
Continue Reading