Saint Benedict's Day
Young Benedict was a seeker of Truth.  A well-kept, well-fed young man from a prosperous family, he attended university in his quest for the Truth.  But what he found there neither answered the questions he had nor satisfied his longings.  The life of hedonism that surrounded him there only disgusted him and left him bruised and empty.  He had searched for the meaning of life in an academic environment without success.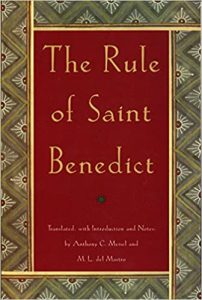 We thank God that Benedict did not give up on his search for life's meaning on the day he abandoned his studies.  Instead he walked away from everything he had known to look elsewhere.  He constructed a solitary existence, far from the distractions of human society, to search for life's purpose.  Alone, he besought God's merciful presence, and God answered him.  When others came to him in the hope of joining him, he did not turn them away.  He recorded his experience as a spiritual mentor and his guidelines for the monastic life in his Rule.  We, the Benedictine Sisters of Florida, are the happy heirs of St. Benedict's legacy.
Benedict's life-long search for God required tremendous courage, faith and perseverance.  His willingness to leave his beloved solitude in order to share his wisdom with others was an act of self-sacrifice and generosity.  On this feast of St. Benedict's passing to his heavenly home, let us ask God for a measure of those same qualities.  Let us prefer nothing to the love of Christ, and may He bring us all to everlasting life.  (RB 72:11)
~by Sister Eileen Dunbar, OSB