The Benedictine Sisters of Florida is a story filled with individuals who have not simply done for others, but have found their true calling in the Being Benedictine and in doing for others. Today's Sisters stand on the shoulders of the strong women who went before them. Their lives are guided by the Spirit of God and the Benedictine tradition.
The following is an introduction to each of the Sisters and other community members. You are welcome to get to know us better with a scheduled visit to Holy Name Monastery at your convenience. We've included the dates of the Sisters' birthdays and would love to know yours. It's always nice to get a greeting card on your "special day!"
COUNCIL MEMBERS
COMMUNITY MEMBERS
NOVICE
POSTULANT
Marietta Dinopol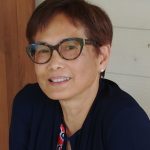 Postulant Marietta's story is rather complicated, but very much rooted in her desire to be of service to God's people. She says of her journey that it has been long, but she feels really good about where she is now… with the Benedictine Sisters of Florida in postulancy formation.
Marietta's strong feeling for a vocation came while in college. When asking for a blessing from her father, she says, "He made it quite clear that he was strongly opposed to the decision. He reviewed the novel Noli Me Tangere (Don't Touch Me) written by Jose Rizal who was a Philippine National Hero during the colonization of the country by Spain. The book describes the inequities of the Spanish priests." After this, Marietta did not ask again. Nonetheless, her college days were schooled with spiritual growth as well as social awareness which deepened her faith, longing, and thirst for God.
Throughout the years after college Marietta's focus was on her profession. However, "my heart continued to murmur into my ear… listen to me. Yes I hear you, my Lord was within me, but I did not attend to the murmurings intently." Her search for religious community was tepid until she finally "listening" to the Holy Spirit with the Benedictine Sisters of Florida.
As of now Marietta can say, "I am here Lord, and it is good to be here."
 AFFILIATES
Jennifer DeCory
Originally from Rochester, New York, Jennifer attended college in Buffalo and then moved to Florida in 1999 to be closer to her family.  Like many Catholics, she was brought up Catholic and fell away in adulthood.  Life has a way of moving along and so it did for Jennifer.  She worked in sales and service at Walt Disney World and other great companies for which Jennifer explains she was fortunate to be associated.
Jennifer eventually became more involved at her local parish and fell in love with Jesus all over again.  She found Sister Mary David and Holy Name Monastery on the St. Petersburg diocesan website and was encouraged to visit other monasteries across the country and did.  "The blend of Benedictine prayer and work felt like the right fit for me," explains Jennifer so she returned to us. "I feel closer to God here, enjoy being of service to others, and now have all the Benedictine Sisters of Florida as family!
LIVE-IN OBLATE and VOLUNTEER
BIRTHDAYS and FEAST DAYS
The Catholic Church assigns a date out of the year for each and every canonized saint – usually on the day of their death or birth. The saints are remembered on their individual feast days with special mention, prayers and possibly a scripture reading. A Benedictine Sister chooses a saint and she then celebrates their feast day.
| | | |
| --- | --- | --- |
| Sister | Birthday | Feast Day |
| | | |
| S. Roberta Bailey | October 24 | January 26 |
| | | |
| S. Mary Clare Neuhofer | November 1 | August 11 |
| | | |
| S. Mary David Hydro | June 11 | March 1 |
| | | |
| S. Jean Abbott | October 11 | June 24 |
| | | |
| S. Eileen Dunbar | August 3 | August 18 |
| | | |
| S. Dianne Wansley | November 22 | July 26 |
| | | |
| S. Miriam Cosgrove | February 11 | September 12 |
| | | |
| S. Donna DeWitt | April 30 | August 29 |
| | | |
| S. Mildred Gelis | June 23 | July 13 |
| | | |
| S. Mary Romana | April 14 | March 9 |
| | | |
| S. Helen Lange | September 28 (105 this year) | August 18 |
| | | |
| S. Elizabeth Mathai | May 22 | May 31 |
| | | |
| S. Mary Margaret | November 14 | October 16 |
| | | |
| S. Tracey | May 14 | October 3 |