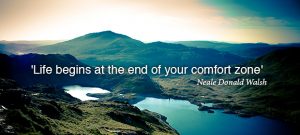 First Reading  Sirach 3:17-18,20,28-29     Second Reading   Hebrews 12:18-19,22-24
Gospel Reading   Luke 14:1,7-14      Intention End to terrorism
There is a term popular today that seems to me to fit with this message of Jesus. The term is "comfort zone" which refers to those situations in which the person feels comfortable, safe, and free from threat or even challenge. The comfort zone is, for the person involved, a thoroughly comfortable place. Life there is marked by ease and familiarity.
It's natural to like one's comfort zone, but most of us would admit that we should not remain there indefinitely. People do not become better or more mature or holier lingering in their comfort zone. That just doesn't happen.
This, I think, appears to be a modern term for what concerns Jesus in today's Gospel. The passage divides easily into two parts.
In the first part, Jesus cautions against sitting in the place of honor at a wedding banquet and advises taking the lowest place instead.
In the second part, he urges us to invite the crippled, lame, and blind when we give a luncheon or dinner, rather than friends, relatives, and rich people.
So there's advice here for us when we're the guest as well as when we are the ones hosting an event.  But it is about more than proper banquet etiquette.  Choosing the seat of honor for ourselves sounds a lot like craving our comfort zone. The best seat is the one where we feel comfortable: accepted, safe, free from threat, challenge or embarrassment or any sense of awkwardness.
Sharing a community meal, sitting at table should be less about power and all about sharing the joy of being together.   Even our legends acknowledge the power of a choice seat like King Arthur and the Knights of the Round Table. Sitting at a round table came to symbolize equality… because there was no head of the table. All had an equal seat and an equal say. Where you choose to sit matters. It matters in the way people perceive you and in the way you act in different environments.
Jesus challenges us against staying in our comfort zone. Rather than limiting our guest list to people who are clones of ourselves, people with whom we're comfortable, who don't threaten or challenge us, invite instead those who are different, people who make us uncomfortable, but whose difference from us may bring with it a blessing.  This is what I think is so significant about our Thanksgiving Day dinner.  We open our door, our hearts and our table expecting nothing in return.  The blessing of being in a position to share is its own reward.
Jesus not only teaches us this the lesson of stretching our comfort zone, he demonstrates it. His entire life, his public ministry, the passion and resurrection, is full of one episode after another of not remaining in a comfort zone.  Repeatedly Jesus takes the low seat and invites unlikely types to be his guests.
Finally he takes the worst seat of all––on the cross––and those who come to his banquet make it through the door (recall last Sunday's Gospel)  because they claim no merit of their own. Finally he leaves the comfort zone of earth and expands his comfort zone forever, everywhere and with everyone – there are no strangers – all are welcome!
~Sister Roberta Bailey, OSB, Prioress
Continue Reading