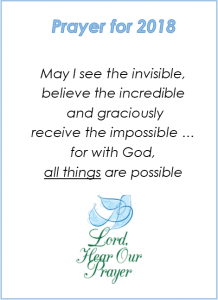 This weekend the Church celebrates the Feast of the Holy Family and, on Sunday evening, the Vigil of Feast of the Mother of God.  So, what does that mean for us as monastics?  We came from a family, we still have families and together we live in an intentional family.  Our life together as family is guided by the simple, yet profound, guidelines designed by St. Benedict.  He was a man of great wisdom, compassion and common sense.  We know that after some time of living in various settings with his original Rule, he added advice based on his observation of the interactions between those who chose monastic life.  Imagine having to warn his men not to sleep with knives, to wear clean underwear on a trip, for the learned to help those who could not read.  His prudence shines through when, in so many words, he says: this is what works for us now – if the schedule of psalmody, the horarium and other daily living details don't fit your need, change it.
It is the spirit of the Rule that has survived because Benedict, even in his youth, had a deep understanding of human psychology.  A study of his early life lets us know he spent much time with his grandparents who lived a few miles from his home.  Walking along the ridge to their summer home he passed the huts and caves of hermits.  Before he was sent to Rome to pursue academics, he spent hours conversing with these solitary men … maybe women, too.  He absorbed the wisdom and practical advice from the older generations.  This is evident in the Rule –  he tempered discipline with compassion and he saw the spiritual quest as a joyful pursuit of God within the structures of ordinary life.  It is this joyous delight in everyday spirituality that kept his Rule for Monastics alive for over 1500 years.  His simple principles of living together under God's love have been applied beyond monasteries to family life and especially Benedictine Oblates.
If we know only the first word of the Rule "LISTEN" what an impact it could make on our own happiness and create peace between peoples.  It's interesting that Benedict uses the word LISTEN and not hear.  I don't know about you, but it is only when I hear a noise in the night that I strain to listen for the next sound.  To truly listen to another requires perception, knowledge of human nature, biting the tongue before speaking and an open-hands approach in conversation.  To listen requires an attentive spirit … not a scramble to respond with advice, a witty or chiding remark or a one-upmanship story.  When we truly listen to another we can identify their feelings, let it resonant within and know that very often all the person wants is a listening heart that signals authentic caring.
Benedict's Rule offers us a high ideal and when we breach the ideal we need to be humble enough to ask forgiveness both from God and from each other.  His down-to-earth advice survives because of its inner dynamic.  He wasn't writing for honors students but for, as one author calls us "a motley crew".  Benedict expected his followers to work hard, study hard and pray hard as they travel along a life-long path of falling down and getting up in a community where each member is valued and loved unconditionally.
From that first word in his Rule – "LISTEN" … to his advice to begin every good work with prayer … to keeping a lamp burning at night … to don't loiter outside chapel if you are late … it is evident that Benedict saw God at work within the ordinary events of communal living – in the joys and sorrows of our everyday lives.
Tomorrow will be the eve of one year, and the dawning of a new one.  We recall with fond memory those who were with us last year and this year celebrated Christmas in the intimacy of heaven – we pray for those who in the coming year will, as the saying goes, enter into glory.
At the close of 2017, I invite you to take count of all the ways you have seen God's glory –  when did THE WORD appear in your life, pierce your heart?  As the days go by, keep LISTENING to God speaking to your own heart, and to your comrades' hungers and longings.  It may sound trite to say this, but we do have two ears and one tongue …  Maybe God intended us to listen twice as often as we use our words.  If we do this we are less likely toot our own horns or miss the other's silent cue for a little attention.  When we cultivate silence and sincere listening we won't step on others feelings, speak harshly or stir the pot by murmuring or spreading slander or spewing unpleasantness into the air we breathe.  Our current world is filled to overflowing with sound, with words, factual and fake. In many instances we do well to ask ourselves if a word is really called for or might silence serve the better part?    Remember the instruction you learned at your mother's knee: "If you can't say something nice, don't say anything at all."    In the end, our discernment is "what will most likely spread peace?"
As we step out into 2018, a whole new universe of grace lies open before us.  May the gift of faith enable us to see the invisible, believe the incredible and graciously receive the impossible … for with God, all things are possible.
~Reflection by Sister Roberta Bailey, OSB, Prioress
First Reading  Genesis 15:1-6; 21:1-3       Second Reading  Colossians 3:12-21)
Gospel  Luke 2:22-40