Thanksgiving Outreach 2020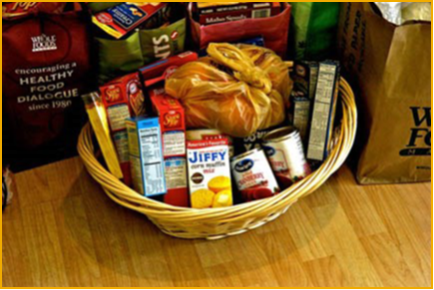 For the first time in 26 years, the Benedictine Sisters of Florida were not able to hold our annual Thanksgiving Dinner. Covid eliminated that particular outreach to those alone or unable to prepare the traditional meal of thanks. We were, however, thrilled to participate in a collaborative effort this year to provide Thanksgiving Baskets for those in need!
The Sisters began what has become a joyous ministry very small in the beginning, in their monastery dining room, to provide a holiday meal for a handful of Saint Leo College International Students. Within three years the Sisters moved the event to Marmion Cafeteria and extended an invitation to the public to join them for dinner. They gathered a crew of volunteers that grew over the years. In 1998, the Sisters sold Marmion Cafeteria to Saint Leo and the Saint Anthony Women's Club jumped on the bandwagon and have continued for 16 years to provide all the desserts for the dinner. Saint Anthony School children also got involved by making table centerpieces and place mats.
When it became apparent that the dinner was not viable this year, a collaboration formed with First Presbyterian Church of Dade City, Pastor Cheryl Duke. Father Ed Lamb of Saint Mark's parish originated the basket idea. The Knights of Columbus from that parish jumped in with $1,520 and gift cards and the Sisters donated $1,305 from their monthly personal allowances! The Saint Leo University Social Service Club, faculty advisor Dr. Veronika Ospina-Kammerer, always raises funds for our Thanksgiving outreach and this year was no different. This project with many volunteers, the monetary donations, and supermarket gift cards extend our mission to "feed the hungers of the people of God."
We will greatly miss the gathering this year and look forward to a future when we can once again welcome our guests to bow their heads over a holiday meal and give thanks to God for all the gifts He provides.
Happy Thanksgiving!
Continue Reading