I'm sometimes curious about the details that evangelists choose to include.  There are two details that intrigue and amuse me a bit in this reading.  The evangelist says, "They took Jesus with them in the boat JUST AS HE WAS."  What is being left unsaid?  Was Jesus half-asleep, half dressed, still talking to the crowd?  They took him JUST AS HE WAS.  If only we could be that accepting of others?  Take them just as they are.  Not merely tolerating them, their behaviors and their attitudes – their differences – but really, full-heartedly accepting them and their individuality.
We hear and read studies on generational differences and expectations.  Our community's median age hovers around 75.  Candidates will come to community with their own, well-defined personalities.  Most often they will come having been raised or worked in a society far different from the environment most of us were raised in.  For the first time in our country, four generations are working side by side.  I heard the comment on TV the other day that today's young adults are not interested in perfecting existing athletic records.  They want to try new – even risky – endeavors.  Always striving to set new records.  The 18-year-old who won first place on the U.S. Women's Swim Team exceeded the previously set speed record for the 100-meter race.  This desire to try something new does not necessarily condemn the past nor belittle its achievements although sometimes the drive to make "my mark" can give that impression.
Different values, experiences, styles, and activities can create misunderstandings and frustrations, tis true.  Or, it can serve to enrich our lives.  The interpretation of key elements of our life may differ … Consider, for example: balance of life, work ethic, fair share division of chores.  It doesn't mean the living out of values will fight with each other.  There need not be a right-wrong conflict – there are shades of gray and more than one way to be "right."  The bottom line is: it's up to each and all of us whether we accept, fight, deny or, as they say: "roll with the punches."  By the event of the past week (we lost two family members of S. Elizabeth to drowning), we've been made keenly aware of the power of rip tide currents.  You can't right it, you must lean into it, let it toss you about until it calms down and release its hold on you.  Change is in the air!
Generational change does require awareness, sensitivity and a genuine effort to develop mutual trust and respect.  Awareness is the first step.  A true attitude of open-handed and open-heartedness is needed not simply to bridge the generations but rather to blend the generations.  Goodwill can cover a multitude of situations but it takes education and a sincere personal effort to make us ONE community in mind, heart and spirit.  Remember what the evangelist says: "They took Jesus just as he was."
The other detail in his Gospel that I find curious is the passing remark that Jesus was asleep on a cushion.  Why was it so important to point out He had a cushion?  Makes it sound like not everyone had a cushion – cushions must not have lined the hull of the boat like water-proof safety floats might be seen today.  Having a cushion implies comfort, doesn't it?  Jesus was sleeping like a baby unaware of the turmoil around him.  Or was He?  Was he peeking at them through a half-open eye?  Was his ear attentive to the murmuring about him and his seemingly uncaring attitude?
I assume they were all guys … women would have grabbed anything nearby to cover and protect Jesus from the sloshing waves.  When the storm increased and the boat rocked, Jesus' friends roused him, with telling words.  They are familiar enough to dare to wake him with words of reproach, questioning his care for them.  They are hurt by His non-responsiveness to their needs.  Reminds me of the Martha – Mary incident … and maybe sometimes ours "Why doesn't she get up off her duff and help me …  can't she see I could use some help?!"
We are in the boat, the storms of life are raging around us, and like the disciples, we may believe that Jesus is unconcerned, or "sleeping."  We hope that we will be as familiar with Jesus as his disciples.  If we feel that Jesus is sleeping, are we comfortable, are we as familiar with Jesus as the disciples, to rouse him and present him our needs?  Jesus did not chide his disciples for waking him.  Rather he chided them for their lack of faith.  Storms don't worry Jesus.  He's right there in the boat with us, perfectly calm, not impatient, in no hurry for a solution or relief.  He has one ready to hand us but how often do we tell God how to do things and then fret that God is doing nothing because it isn't happening as we proposed?
Our lived experience should teach us that we need to relax and take heart, remain strong in faith that believes that Jesus isn't scared of the storm, he isn't depressed.  He might be asleep, or he might not be, but either way, like the song says, "He's got the whole world in his hands."  In the words of the Responsorial psalm: "He hushes the storm to a gentle breeze, and stills the billows of the sea."  Even if Jesus doesn't wake up at our first call, we are safe with Him.  He's going to wake up and say what you heard in the Gospel to us: "Why are you terrified? Do you not yet have faith?"
~Reflection by Sister Roberta Bailey, OSB, Prioress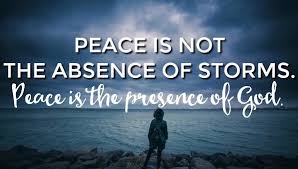 First Reading:  Job 38:1,8-11                       Second Reading:  2 Corinthians 5:14-17
Gospel Reading:  Mark 4:35-41
Continue Reading