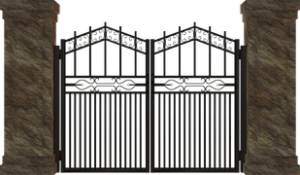 21st Sunday in Ordinary Time, Sunday, August 21, 2016
First Reading  Isaiah 66:18-21                Second Reading  Hebrews 12:5-7,11-13
Gospel Reading  Luke 13:22-30
This Gospel may well be a loose collection of sayings of Jesus recalled by the author, uttered in several different contexts but brought together here under the general heading of "who will be saved?"
As this parable opens, Luke reminds us that Jesus is making his way to Jerusalem, teaching as he goes. When from out of the crowd he hears a question called out giving him a chance to make a prophetic statement. A few weeks ago, the question was "What must I do to inherit eternal life?" Today it's "will only a few be saved?"
Jesus answers with two parables – referred to as the "narrow gate" and the "door" although the same Greek word is used for both gate and door.  It's the translation that may be misleading.    It's interesting to me that Jesus says many won't be strong enough to get through the gate.  He doesn't say slim enough.  It sounds as if the walls can be pressed aside if you just have enough strength.  To digress a moment … I thought of this image at the construction meeting earlier this week.  The discussion was about the well that has to be sunk to provide water for the fire sprinkler system.  The pipe will have a protective casing on it so it will not be subject to water erosion or enjoyed by underground rodents that visit our garden.  When drilling the well they ensure that the opening is wide enough to accommodate whatever diameter of pipe it takes to get the needed  water pressure ( 4', 6' 8' pipe) before inserting the casing … in Jesus language, that it is strong enough to let the required flow of water get through.
Jesus says: "Many will seek to enter and will not be able" … so, maybe the overwhelming crowd will be too many all at the same time pushing and shoving to get through the opening?
This question to Jesus had people squirming: "Will only a few be saved?"  Will I be among them?  How can I be in that count?
The answer to the "will only a few be saved?" is no. In the end, many will be saved, but many who thought they would be saved will not be saved. The parable is a prophetic warning that it will take repentance, forgiveness, faith …   in order to be saved.  "Many are called but few are chosen."
But, remember Jesus also said, "When once the master of the house has risen and shut the door, and you begin to stand outside and to knock at the door, saying, 'Lord, open to us,' then he will answer you, 'I do not know where you come from."  Don't delay your planning to be among the chosen … what's the saying: don't put off to tomorrow what can be done today?  Lectio and personal prayer; some form of fasting whether from food, or technology or juicy gossip is a daily opportunity.
Jesus answer to the crowd lets his hearers (and us) know that the "door of opportunity" will not remain open indefinitely.  When the door is closed, it is closed and will not be reopened for persons whose only claim is that Jesus once visited their temple / their church, their town and village or preached in their streets or that they once saw Jesus in a crowd.   Remember the 10 virgins … 5 missed the boat due to a lack of "NRRO future planning."  And, recall the Gospel lessons we heard this past week: the first shall be last … and the last will get the same reward as those who signed on to Jesus work crew early in the day.
We've all probably seen the famous painting of Jesus knocking at a door with knob …  the door to our hearts must be opened from the inside.   That's true but there are also doors with visible knobs that we must have the courage to open from our side….  To let in the immigrant, the wanders, the seekers, the faithless, the weary.  Could we say we are on the inside listening for outsiders to lift the knocker asking entrance.  Or, there doors waiting for you to twist the knob on, or push aside, to get a glimpse of what's on the other side? It takes courage, doesn't it, to be on either side of the door:  A big breath before stepping up to knock on the door of a stranger and a gasp of apprehension to open the door to an unexpected knock, especially if there is no peep hole to reveal at least a shadowy shape of the caller.
Some years ago I belonged to a parish group that studied various styles of meditation.  One was "wall" or "gate" meditation.  I invite you to try it …  and then I will share my experience.
Get in a relaxed position … lying down risks dozing off but sitting runs that same risk … just don't try this particular type of meditation standing up or walking …   So, relax your body, close your eyes and in your mind start walking along the edge of a wall or fence … not on it, beside it –  until you see an opening or door … walk through – who's there – do you see Jesus? – who is with him?  What are they saying to each other or to you …  Just let the reflection go where it will …
In my first experience… as I crossed through a low stone wall, I sensed Jesus seated with a circle of 10 – 12 others – he motioned for me to come sit beside him …  looking around I recognized and could name all but one person …  I have no memory of who they were BUT several years later I was introduced to a Sister from another community and I startled and instantly realized she was the one who had been in that circle.
Here are some doors you may want to visualize, open and peer beyond  …  Lord, Lord, open to me.

~Reflection by Sister Roberta Bailey, OSB, Prioress
Continue Reading