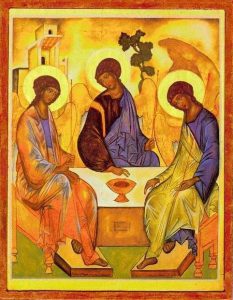 With this weekend's Scripture readings the Church seems to be saying "Wait a minute – put the brakes on your return to Ordinary time.  There's another idea to explore.  Let's celebrate our Triune God."  But we know the idea of one God in three persons remains a mystery, so what can I say???  Sometimes it is better to believe than to be able to explain.  You know that about many things: can you explain how you put a printed page in a FAX machine that reads it and spits out a printed copy miles away?  Most of us could not explain how electricity works or the WiFi we trust will connect us to the world?  We just believe it'll work at our command …  and feel disappointment and frustration when it fails us.  We stand strong in our belief of a Triune God though words fail us.
The Gospel of Matthew (read today) and the writings of St. Paul shed light on the concept of Trinity that the early Christians held.  We just heard Jesus say: "Go therefore and make disciples of all nations, baptizing them in the name of the Father and of the Son and of the Holy Spirit."  Somewhere along the line we studied Trinitarian theology: the Didache, Ignatius of Antioch, Justin Martyr, Irenaeus, Origen, Gregory, Patrick with his shamrock imagery, and Augustine with his story of the child trying to empty the sea into a tiny hole in the sand.
But, if we expect these writers and the Scriptures to give a clear presentation of the doctrine of the Blessed Trinity – that simply is not the case.  We may lack an understanding of the how of the Trinity, but it is important to understand the why.  The concept gives us a more personal, more dynamic experience of God.  We are made in the image of God, and, therefore, the more we understand God the more we can understand ourselves.  The mystery of the Blessed Trinity tells us about the kind of God we worship and about the kind of people we should be.
We were created to live in relationship, in unity – giving of ourselves to one another as God exists in relationship.  But, look around today: the sit-ins and the marches are recurring evidence that divisions continue.  We are divided along all kinds of lines: national, religion and racial, gender and sexual orientation, socio-economics and politics, the insured and the uninsured, the "haves" and the "have-nots."  People identify themselves primarily by what distinguishes and separates them from the rest of God's people.
We sing "God is Love."  What exactly does that mean?
Here is a God that is so generous… who loves us so much, He cannot contain Himself.  Here is our God who wants to be discovered and celebrated.  The fact is: God wants us  – waits day and night – to be found.  Here is a God who is constantly calling out to us – but not necessarily with words.  Here is a God who surprises us with gifts like one morning coming into the connector or dining room and being surprised and confounded by an awesome glorious sunrise.  Or a double rainbow after a Florida rain.
Remember the analogy of the three-legged stool?  As individuals in community we need God and others …  the stool becomes lopsided or falls if any one leg is shortened or missing.  Community takes all of us, all the "legs": God, me and all our members.  Sometimes we may feel it really doesn't matter if I miss an activity – that the meals, card games, choral prayer will still go on whether I am present or not.  And, it will – and even in your name.  But, never ever feel that your presence doesn't count or is not important and significant.
This celebration of the Trinity reminds us of the limitless possibilities of God – one God who cannot be contained, but must co-exist as three persons.  Let us seek God out in all His creativity, in varied manifestations – as Father, as Brother, as Counselor, as Companion and Friend – is waiting for us.  Ours is a God who wants to be found.
~Reflection by Sister Roberta Bailey, OSB, Prioress
First Reading Deuteronomy 4:32-34;39-40       Second Reading Romans 8:14-17
Gospel Matthew 28:16-20                                     Intention Health Care Workers