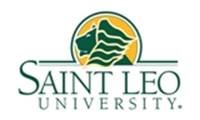 The School of Arts and Sciences at Saint Leo University is offering students and campus visitors new opportunities to explore multiple languages and cultural arts this fall through classes and forums with visiting scholar and musician Dr. Vasumathi Badrinathan.  She will staying with the Benedictine Sisters of Florida through December.
Dr. Badrinathan, a university teacher from India, is a recognized expert on teaching foreign languages and is the first Fulbright Scholar in Residence to teach at Saint Leo University. The prestigious Fulbright Scholar Program underwrites international travel and teaching opportunities through exchange programs intended to deepen cross-cultural understanding. It is administered by a program of the United States Department of State Bureau of Educational and Cultural Affairs.
During the Fall 2015 Semester, Dr. Badrinathan will teach a special course on language, culture, and communications that will be open to all undergraduates with sophomore standing or higher. She will also be working with other university faculty and sharing her knowledge of teaching foreign language skills to students who may one day be working in globalized settings.
"I look forward to this unique and wonderful opportunity," Dr. Badrinathan said. "Being at Saint Leo, sharing and learning from this experience is going to be fascinating journey like none other. I have so many varied projects lined up, from teaching to collaborating on research to a special concert with the music department—I am very excited and privileged to have this experience."
She comes to Saint Leo with a resume that already includes significant accomplishments in teaching and publishing. At home in India, Dr. Badrinathan teaches French in Mumbai at one of her country's most well-regarded institutions, Ramnarain Ruia College, University of Mumbai. She earned her doctorate in French and applied linguistics at Charles de Gaulle University-Lille III in France. In addition to being fluent in French and English, Dr. Badrinathan is fluent in several languages spoken in India—Hindi, Tamil, Marathi, and Gujarati—with exposure to Spanish and Russian as well.
Dr. Badrinathan is also a vocalist of Carnatic music, which is classical music of southern India, and she performs in national and international world music festivals. She writes about music, culture, and dance, as well, and has been a part of many broadcast media arts programs and recordings.
While at Saint Leo, she will perform at appearances that will be open to students and the public. Cultural events are regularly posted in advance at www.saintleo.edu. The University Campus is located at 33701 State Road 52, four miles east of Interstate 75 (Exit 285).
Continue Reading