With the singing of the Vigil this past Saturday evening, we begin our celebration of the feast of the Body and Blood of Christ – once called Corpus Christi (but that only refers to the Body of Christ).  I suspect many of us can recall when th
is was an all-day in-church occasion with processions and Benediction in three locations?  I can remember that but I recall most vividly enduring curlers in my hair.  I had stringy, VERY straight hair and my mother did not consider braids or a ponytail appropriate for church.  So I slept with toilet paper twists in my hair to make curls that barely lasted until the end of Mass.  Before lunch my hair was secured in bobby pin twists to get me through the afternoon processions.  Not a very holy memory but one that certainly marks this day as special.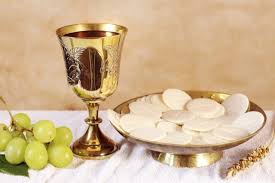 In the Gospel account just read, Mark describes for us only those elements of the Passover that he believes to be most essential: Jesus took bread, blessed it and broke it and shared it with his disciples.  Similar words and actions follow as Jesus shares the chalice with his disciples.  And don't you love the part about where the Passover will be celebrated!  Go to town.  You will see a man with a jug on his shoulder.  (Another evangelist says, "you'll see a man with a donkey.")  Ask him "Where is your guest room, where we may eat the Passover meal."  Isn't that what Jesus says to us when He appears in the person of the guest, the stranger: "Where is your guest room, where may I eat?"
I think back to 1959-60 when our original wood-frame convent-home building was condemned by the fire department.  The local community responded with generous hearts when we asked, "May our Sisters and academy girls live with your family and on the third floor of Saint Anthony School until we can build a new house."  We certainly felt "welcomed as Christ" – the people saw it as a privilege to meet our need.  Over the course of this year we will have our turn to return the favor.  Gradually we will begin to open our doors wider.
Today, each and every day Jesus asks each of us … "have you reserved a guest room for Me in your heart?  Where I may rest, where I may eat a meal with you?  Our corporate commitment continues to challenge us to "respond with the compassion of Christ to the hungers of God's people."  I envision Jesus, his cloak open wide, to envelope all creation – no space between peoples – ALL persons gathered with, and into, Christ.
Pondering the significance of this feast (other than curlers in my hair), it strikes me that with Christmas we are touched with joy and awe at the birth of Christ.  At Easter we explode with ALLELUIA at the resurrection of our Savior.  The Ascension leaves us quietly looking upward, waiting in expectation for "what's next?"  Then, comes the solemnity of the Trinity – the
mystery that baffles us … that God is so great, so awesome that only in three persons can all the divine manifestations be expressed.  And today; the solemnity of the Body and Blood of Christ – this touches, awakens in us feelings we can hardly express – that our God, our Jesus, our Savior would choose to gift us in such a personal, intimate way.  The Psalmist knew a close relationship with God.  Sometimes on a 1:1, face-to-face basis.  In Psalm 103 we pray, "The Holy One enfolds us in tenderness, fills our life with richness, renewing our youth like an eagle's."  We, who live since Jesus' coming on earth … how privileged we are!  Our God and Savior chooses to be assimilated within the body of the creature.  His body and blood become, over and over, absorbed into my body – His blood courses in my veins.  Did you ever wonder how an aspirin knows where you ache?  Or an antibiotic knows what to attack?  Is it heresy to say: Jesus attaches himself to every fiber of my being?  When the Eucharistic minister and I look each other in the eye, the minister says: "Body of Christ."  Note the minister does not say "This is the Body of Christ."  No, it is greeting that the minister and communicant exchange.  The one greets us: "Body of Christ" – it's a greeting not an announcement.  Our one-word response, AMEN, acknowledges, "You, too, are the are the Body of Christ. AMEN!"
Some of you have heard this story from my first year as a CCD teacher.  Sister Rosaria, the pastor and I were unsure if Jimmy had sufficient reasoning to make First Communion.  (How little we understood!)  On First Communion Sunday, following the Consecration, when the priest elevated the Host, the child's voice could be heard by everyone in the church.  With awe in his voice he said aloud: "Here He comes!"  A lesson to us all.  Yes, here He comes!  He is only depending on us to make room in our hearts, in our lives to respond generously and unhesitantly to his query: "Where is your guest room?  Where may I rest; where may I eat a meal with you?"
~ Reflection by Sister Roberta Bailey, OSB, Prioress
First Reading:  Exodus 24:1-6
Second Reading:  Hebrews 9:11-15       Gospel:  Mark 14:14:12-16; 22-26
Continue Reading