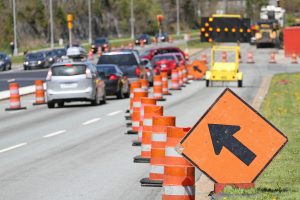 I consider it a safe bet to say that I am not the only one in this group who at the announcement of Luke's quote from Isaiah hear it set to a melody from Handel's Messiah.  I imagine there may even be people in other kinds of groups that think that Handel said it first – "Every winding road shall be straightened; every valley shall be filled in; every mountain and hill shall be made low; and the rough ways made smooth."   
Exciting words!  Well, yes, until you conger up an image of what travel is like through road construction zones.  Bumper to bumper traffic, blinking red taillights, flashing caution lights reminding drivers of speed-zone warnings of "road work ahead – fines doubled."  And, oh, the noise!  Blaring car horns, beeping "back up" signals, and occasionally the wailing siren of an emergency vehicle, or fire truck or police car.  At night, overly bright lights, practically blinding drivers – so work can continue from dusk to dawn.  And, watch out for the earth movers tearing up the old surface to make way for the new.  And, there's talk of re-rerouting the road bed for a safer, more efficient path to the major cities.  You are surrounded by bulldozers, tall cranes, backhoes, churning cement trucks, tractors and forklifts – and workers – God keep them safe – dangerously dodging between cars.  All in the name of progress!
This is what Luke tells us should be happening within each of us as we prepare to celebrate Christmas, the birth of our Savior, Jesus Christ, our Emmanuel.  "Make ready the way, the way of the Lord."  Make for him an arrow-straight path to your heart – an inroad into your everyday life.  A bridge from a thought to an action; from an idea to a donation, from an impulse to a ready smile.
We know the challenge of being earth-movers, rerouting our living space, and wearing noise-deafening soul-muffs to keep our sacred space for lectio and prayer.
But, what kind of forklift do we need to raise the weariness of preoccupation with "things" to a conscientious attention to those with whom we live?  What kind of backhoe does it take to crack the ridged set in our ways?  How many hosing-downs will be needed to quiet a hot temper or a sharp tongue?  How tall a crane do we need for us to see the bigger picture?  What kind of work goggles do we need to protect our eyes from worldliness?  What kind of binoculars will it take to pinpoint and zero in on the evils we want to eradicate?  Are we keeping the traffic strips on the edges of our souls bright enough to protect us from running off the road to goodness?  How tough are the rumble strips that we put down to remind us of "danger ahead"?  Is our prayer life strong enough and sincere enough to be the barricades we need to protect us from on-coming temptations?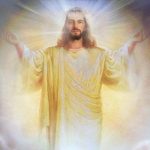 When our life's valley is filled in and the road made straight, will we be ready to "see the Son of Man coming in a cloud"?  As we approach the off-ramp of life – will we be so attuned to the divine whisper that we hear clearly the voice of the One crying out – Look!  The "salvation of our God" is at hand!
~Reflection by Sister Roberta Bailey, OSB, Prioress
Try no to get overwhelmed by Christmas busyness…
2018 Second Sunday in Advent
First Reading  Baruch 5:1-9           Second Reading Philippians 1:4-6, 8-11
Gospel Luke 3:1-6