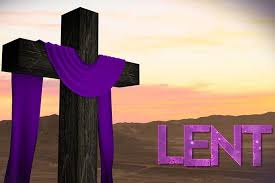 Here in the story of Jesus' experience in the desert lies our hope – we can, as the saying goes, "tell the truth and shame the devil" by striving during Lent to cultivate virtues and attitudes that Jesus exhibited in his encounter with the devil:
RELIANCE  We can practice confident reliance on God to provide for our needs – you don't need the devil's stones turned into bread.  A verse we pray in Noon Prayer reminds us of what God can do with stone – not make bread but "fashion a pool of water from desert rock, a fountain from wilderness stone."
WORSHIP  We strive to worship God who alone has dominion over us and our world – we don't need ill-begotten, "suck up" kind of glory.  Keep a Word of Scripture on your tongue to refute Satan's tricks.
TRUST  We want to trust God to be faithful to His promises – no bargaining with God …  "I'll do this for you, if you do that for me."
Notice how Luke ends his report – the devil departs for a time.  The implication is that the devil will return.  And we know he does in the Garden of Gethsemane.  The depth of Jesus' trust in God is shown most fully when He rejects the temptation to turn away from his God-given mission.  Christ let Satan try all his force, and defeated him on every angle until the devil got discouraged and left "for a time."
Compassion-fatigue is one sure way of letting the devil have dominion over us.  So, what are the signs we need to be alert to so we do not suffer burn out trying to be all things for all people, to wear every hat that the community life possesses?  Behaviors to watch for include: impatience with others, using humor inappropriately, being demanding or critical or denigrating the people we live with, work with or serve, publicly complaining of being tired all the time and neglecting community obligations, distancing self from friends, expecting everyone to meet my standards of perfection and/or being depleted of the sense of satisfaction that I originally had in my vocation and in ministry.  Failure to recognize symptoms of compassion-fatigue cause people to leave a profession they once dearly loved, to leave spousal relationships and religious communities, to fall into self-destructive behaviors.
If you had a check list of misconceptions, to which of these would you say, "that's me":
If they give me the chance, I can fix this community – in fact, I could save the world if anyone would only listen!
If "they" only cared enough, everything would be OK and they'd volunteer without being asked.
I can do all the "fix it" work around here by myself – I might as well, it seems like I do it anyway.
If this group were only more holy, we could deal with the stress of our corporate commitment.
Said yes, to any?  Sounds like you're on a downhill slide into compassion-fatigue?  What can you do?  This gospel gives us a good start – retreat, take time to self-examine any symptoms you may be experiencing.  Know the devil for what it is: evil personified, self-doubt, yearning for power and prestige.
Jesus knew what would refresh him.  I suspect Jesus' mother Mary had helped him as he matured to get in touch with his feelings and needs as well as his strengths – helped him find a sense of balance in his life – time with others, time alone and time for fun (I bet that Jesus had a glorious time at the wedding in Cana.).   Following Jesus' example we know we need to take quiet time and to exercise.  Surely, Jesus put in many foot-miles on the hillsides and the desert terrain – you see, he didn't have a golf cart.  We need to take care to find companions and a mentor – Jesus had the company of his apostles, of Martha, Mary, Lazarus, his cousin John – and above all His family and His heavenly Father.
The secret to being fully alive and free, is listening to the small voice which speaks with ardent yearning in the depth of our being.  Lent is a good time to practice what Mother Teresa of Calcutta recommends – we can practice it for a lifetime.
ANYWAY
Attributed to Mother Teresa of Calcutta
People are often unreasonable and self-centered.  Forgive them anyway.
If you are kind, people may accuse you of ulterior motives.  Be kind anyway.
If you are honest, people may cheat you.  Be honest anyway.
If you find happiness, people may be jealous.  Be happy anyway.
The good you do today, may be forgotten tomorrow.  Do good anyway.
Give the world the best you have and it may never be enough.
Give your best anyway.
For you see, in the end, it is between you and God.
It was never between you and them anyway.