This Gospel offers us the reassurance that Jesus understands how difficult it is to wait.  You can feel Him "chomping at the bit" as he says to his disciples: "I have come to set the earth on fire, and how I wish it were already blazing!"   The declaration is mystifying.  We've seen the devastation that fire can inflict.  It makes its own path, sparks new blazes, has no regard for anything in its way and leaves desolation in its wake.  So, just what did Jesus mean?  I wonder  if Jesus  might have been referring to a cleansing, to purification rather than punishment.  And, if Jesus felt that way over 2000 years ago, how would He feel with the world situation as it is today???  He sighs as He says: "Oh, how I wish it were already blazing!"
This is a lesson in patience.  Jesus is wishing.  He is waiting. And He did most certainly wait.  He waited for the Spirit, waited for the one, his cousin, who would baptize, waited for the day the Father would give the go ahead to His working miracles, waited for the "three days" and His resurrection.  Then He waited for the fire of the Spirit at Pentecost.  From the beginning of His coming on earth He taught lessons in waiting.  Mary and Elizabeth waited nine long months for the birth of their babes.  The Holy Family waited three years in Egypt until it was safe to return to Nazareth. Jesus waited 30 years to begin his public ministry.  He waited three days to respond to Lazarus' sisters' news that his friend had died.  He waited 3 years for His Father to prompt him NOW was the right time for His last supper with friends, time for betrayal and crucifixion, time to rest in a borrowed tomb until he would be raised from the dead.  He waited for the right time to reveal himself to Mary Magdalene in the garden and later to appear to the disciples and his mother Mary closeted in the upper room.  He waited 40 days for the time to ascend and take his place at the right hand of his father.
And we? Oftentimes what do we do with our waiting time?  We look for the shortest check-out lane.  We tap our foot and mutter when the clerk has to call for a price check.  We grit our teeth at a long red signal light, or for an elderly person to negotiate a curb or unfamiliar hallway; or move ahead in the buffet line at mealtime; or we repeatedly hit we "print" command on the keyboard in hopes we can hurry it up.   What are the words in the hymn by St. Louis Jesuits, TRUST IN THE LORD?  "Trust in the Lord, you shall not tire. Serve you the Lord, you shall not weaken.  For the Lord's own strength will uphold you. You shall renew your life and live."
The message in the Gospel also reminds us that choosing to do good requires on-going decision-making. We all know well that life isn't conflict-free no matter how holy, easy-going or patient a person we may be.  As we well know living in a monastery isn't surefire protection. We're all still human, with human limitations.  But we are also followers of Jesus who said, "What makes you think I have come to establish peace?  I tell you I have come to sow division."  He is alerting us to be prepared for difficult decisions.
Jesus is letting us know beforehand that He is right in the middle of the fray. Remember He said: "I have come to set the earth afire."  He is telling us that when we make the decision to follow him, we may face opposition from some quarters, perhaps even from our peers, our family or friends.  He probably cheers us on when conflicts arise, and He can foresee the peace of reconciliation coming down the pike.
Consider your choices: add fuel to the fire or bite your tongue, cool your jets and exercise patience.   Figuratively, if we engage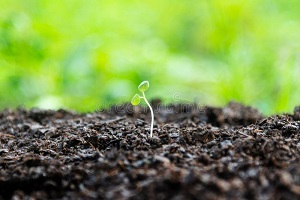 the faucet and turn on the nozzle, we can control the hose that can put out the fire between us.  The landscape may look charred. The ashes will remain.  But out of the ashes will come new life: green plants and colorful flowers – some never seen before.  And, yes – peace.
~by Sister Roberta Bailey, OSB
First Reading  Jeremiah 38:4-6,8-10    
Second Reading  Hebrews 12:1-4
Gospel Reading  Luke 12:49-53