Sister Elizabeth has graduated
Spiritual Direction Program!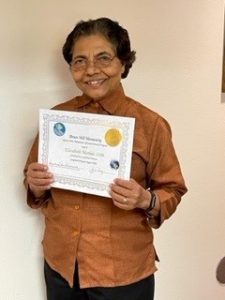 On August 15th Sister Elizabeth was on a family visit in Switzerland.  Thanks to ZOOM capability she joined her on-line classmates for their graduation from The Global Online Benedictine Spiritual Direction Program.  The two-year curriculum is designed to guide participants on their own spiritual journeys to become a compassionate listener for those who seek healing through Divine connection in the company of a spiritual companion.  The students in the two-year program spend an average of 8-10 hours per week on assignments, viewing videos and join twice monthly forum sessions.  Each student is assigned a facilitator who leads them through a practicum that includes learning the importance of ethics in the practice of spiritual direction.  The program, open to all faith traditions is sponsored by the Benedictine Sisters of Benet Hill, CO.  Sister Elizabeth joins the ranks of graduates from across the U.S. and several foreign countries. Directees who need spiritual direction may contact her at srelizabeth@ymail.com or call 352-588-7187.
 Sister Elizabeth was congratulated by the community of Benedictine Sisters of Florida at an ice cream social on Monday, August 22nd.