Personal State and Federal Taxes Prepared and Electronically Filed – Postponed
Tax Preparer is IRS Registered AFSP with years and years of experience managing H&R Block and Jackson Hewitt offices.  A member of the National Association of Tax Preparers.
Availab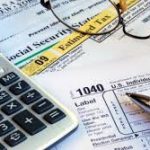 le Tuesdays from 1:00 pm to 7:00 pm and Saturdays from 10:00 am to 2:00 pm by appointment only.  Call (352) 206-8662 or text: taxdonebyme@aol.com.
 There is no fee for this service, but a donation to the Benedictine Sisters of Florida is appreciated.  This is an opportunity to use my expertise and experience to help you while helping the Sisters – my gift.
Appointments can be scheduled to start on February 4th.
Note:  You will receive an acknowledgement as the taxpayer upon acceptance by the IRS. If not satisfied for any reason, your paperwork will be returned.  Preparer takes full responsibility for any taxes filed based on the information taxpayer has provided.