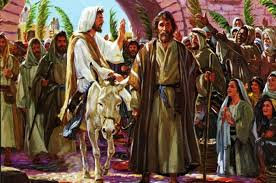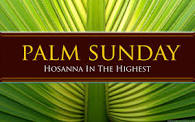 Thomas Moore, a contemporary author and lecturer wrote: "The whole point of a good story is to give birth to other stories and to deepen reflection."   The Palm Sunday stories certainly call us to reflection.  There are stories within stories that bring to mind more stories.  A temptation may be to try to reflect on too many of the stories.  In Lectio we can become absorbed in the complex harmonies, tempos and textures of the words.  Or as LCWR terms it: we can become servants to the narratives of the materials at hand.  But, this takes uninterrupted time.  It seems a good choice for the Palm Sunday stories to simply "sit with" the story.
Palm Sunday liturgy is potpourri of themes and a roller-coaster of emotions: high hosannas, a supper with friends, an example of loving humility, washing of feet and later washing of hands; betrayal and mocking, Simon and Veronica, John and Mary, Joseph and the women – their expressions of care, courage and compassion – the soldier's  "Surely this was an innocent man," the donation of a burial place, preparation of the body of a loved-one, the watching at the empty tomb and the waiting … and waiting … and waiting.
In times not like the current pandemic, Palm Sunday services would begin similar to the first Palm Sunday, with such glorious solemnity … waving palms, processions, joyful singing of hosanna!  Sadly, within about an hour's time symbolically we travel from cries of "Blessed is He who comes in the name of God!" to shouts of "Away with this man – Crucify him!"  Then, in our liturgy we move on to the Eucharistic acclamation: "Christ has died, Christ is risen, Christ will come again!"  We pray for forgiveness and daily bread.  We acknowledge each other in a gesture conveying God's own peace.  We recall Jesus' supreme sacrifice and take (normally) into ourselves His body and blood.  Afterward, the communion antiphon calls us back to the beginning of the story – to the thread that winds through the whole story: "Father, if you are willing, take this cup away from me: still, not my will but yours be done."
This same sentiment is echoed in the prayer often used at the Stations of the Cross: "Oh, my God, I love you.  I love more than myself.  Grant that I may love you always, then do with me what you will."  When I hand myself over to God, as Jesus did, in a sincere act of self-surrender, "Suscipe me" – I am asking God to accept me just as I am now – open, vulnerable, powerless against the forces of the pandemic.  I am also saying that I am willing to receive whatever God has in store for me.  The journey moves onward, to future Palm Sundays and Good Fridays.  Our empty churches and chapels this year are a strong reminder of the "empty tomb."  We may lament Jesus' Eucharistic absence in our lives.  At the same time, we take comfort knowing that we can feel God's very real presence in our lives through the witness of prayerful lives and care and concern for each other.
Easter will come!  God will win the day!  It will simply be different and very personal.  We feel connected with all who are enduring the same deprivations of social distancing.  "Accept me, accept us, O God, as you have promised and I shall live – we shall live; and we shall not be disappointed in our hope."
~Reflection by Sister Roberta Bailey, OSB, Prioress