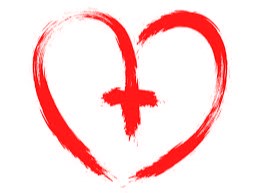 This year on February 14th our liturgical "stars" will be in a strange alignment!  Valentine's Day and Ash Wednesday coincide!  No one set out to plan it that way but now it's ours to figure out how to combine the spirit of "heart" day and the penitential spirit of the beginning of Lent.  On second thought, maybe it's not so strange.  But it is curious.  Lent calls us to a change of heart and Valentine's Day brings gifts of flowers, chocolate and little candy hearts with expressions of love printed on them.  I suspect that Mardi Gras festivities, too, will have generous servings of Valentine's sentiments and Ash Wednesday will still have the aroma of Valentine's chocolates.  Then, six weeks down the road, guess what?  Easter Sunday coincides with April's Fools Day – and that's no joke!  The coincidence of dates reminds of to be "fools for Christ."
In the spirit of Ash Wednesday's repeated refrain: "Remember you are dust, and to dust you shall return" let us ponder how we might turn from simply being creatures of "dust" to being creature of love.  If we pick up the Scriptures each day of Lent we will quickly realize that the Good Book is filled with expressions of love: God's call to us is to be open and ready to change so that our love, and our loving ways, may increase.
We can't prescribe for another HOW to go about being more loving … Oh, we may think we could if they'd let us.  But, loving comes from inside out.  It comes from God who IS love.  We can SHOW each other what love looks like.
Let us always meet each other with a smile, for a smile is the beginning of love. (Mother Teresa)
~Reflection by Sister Roberta Bailey, OSB, Prioress