St. Leo Township 125th Anniversary
July 9, 2016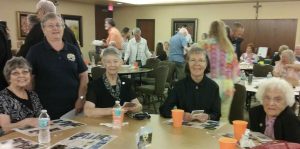 We preserve our stories because we want never to forget that the opportunities we have today were not simply lavished upon.  They were purchased at the great price of travel from home; cold, cracked work-worn knuckles; study by the light of midnight oil; stomachs that ached with hunger; raking, hoeing and watering groves and gardens – saving, scrimping and salvaging.
What firm faith and incredible courage our founding sisters must have had!  The records in the Pittsburg archives remind us of how adventurous and of the bravery of these young sisters who in 1889 set out for a long journey into the unknown.  There were clearly told if the venture did not work, they were not to return to Pennsylvania.  An examination of the papers shows us that of the five women who signed their severance papers on the evening of February 22, 1889, one never made it to Florida.  However, one of the Sisters who had served as a witness, must have decided overnight to join the mission band – she is named in the group of our five founders.
Imagine what daring it took to venture south into a faraway place.  These were Benedictine women with a dream!  In 1889 Rome considered the church in America "missionary territory."  In relative terms, the slaves had only recently been freed.  Had our Sisters ever seen a person of color in their northern neighborhood?  Surely not an Indian and most assuredly not an alligator!
There is some evidence that the pioneer band traveled from Allegheny County (PA) to the Benedictine house in Covington, KY – then southward by train which would have deposited them in south GA or north FL.  It seems safe to me to guess that someone from San Antonio would have met the Sisters at the train to bring them in wagons or on horseback down along what is now Hwy 19 and 41 – parts of the Seminole trail.  Perhaps they met cattle drovers bringing their herds to Tampa or Punta Gorda.  By the time they reached San Antonio, traveling through the Florida wilderness – in February, probably not too many mosquitoes but surely they'd have heard or seen black bears and panthers, "Strange" birds, and had run across a snake or two…
On Thursday, February 28, I bet they breathed a sigh of relief to at last be among people they may not have personally known but whose northern cultural practices and manners, whose speech patterns were similar to their own.
Next day, March 1, being a Friday, and most probably a Lenten Friday, would have been a day was meat was NOT on the menu.  The sister would have partaken of very little, if any, breakfast.  They'd have prayer the Little Office of the blessed Virgin, an abbreviated for of the Divine Office they'd back home.  And as we know from our annals: "the great work was begun."  Perhaps they had a main meal of fish fresh caught from Lake Jovita?  Evening came, and morning came, their second day in the mission land called "Land of the Flowers."
The Sisters first home was a three-story wood-frame hotel which was located on the city park in San Antonio.   In 1911, the building was moved on logs to a location parallel to the shore of Lake Jovita in St. Leo.  In 1960, the "new" monastery building, which is now called Benedictine Hall and owned by Saint Leo University, replaced the original wood-frame building which the Sisters and academy boarders had called home for 71 years.
By March 11, less than two-week after their arrival, the Sisters had opened Holy Name Academy for girls and were teaching in St. Anthony School and St. Joseph School.  From 1929-59 they operated St. Benedict Preparatory for young boys.
In their history since 1889, the Sisters have served as town mayors and commissioners. At Saint Leo University, they have served as administrators, instructional staff, board members, campus ministers, directors of residential life and director of library services, archivist, clerical staff and food service managers.  From 1962 until 1997 they provided housing for university students.  Florida Benedictine women have staffed schools in Texas and Louisiana.  In Florida, they have been teachers and school principals, and worked in parish ministries, in San Antonio, St. Joseph, Lecanto, Jacksonville Beach, Miami, Quincy, Sarasota, Ocala, Lakeland, Venice, Beverly Hills, Apopka and Tampa.
The Benedictine Sisters have conducted summer religion programs at three diocesan camps.  They taught in summer Bible camps in DeLand, Plant City, Leesburg, Bartow and Naples, Florida.  Weekly religion (CCD) classes were taught by the Sisters in cities where they staffed schools and in Floral City, Brooksville, New Port Richey, Eustis, Arlington, Ponte Vedra, Masaryktown, Belleview, Reddick, West Ocala, Fruitland Park, Gainesville, Clermont, Dade City, Zephyrhills and at the Girls' Detention Center in Ocala.
At the turn of the 20th century they attempted the founding of another motherhouse in Quincy, FL (which did not thrive) and within 10 years they had been invited to start a house in the Diocese of Birmingham, AL.  A year later 5 of "us" from FL joined with 5 Benedictine sisters from Kentucky to found the Benedictine convent in Cullman, Al.
At the present time, the Florida Benedictine Sisters continue to work on public, private and parochial school boards, and at Saint Leo University.  Individual Sisters are volunteers and serve on the boards of Catholic Charities, the Chamber of Commerce, Habitat for Humanity, Sunrise Spouse Abuse Shelter, Hospice, St. Vincent de Paul Society, soup kitchens and thrift stores.  Some of the Sisters minister within their community in administration, recruitment and formation of new members, business affairs, hospitality and retreat ministries, direct services to the poor, food service, horticulture.
And, now here we are at day 46,516 in the 127th year of our history – yes we were here before St. Leo was St. Leo Township!  And the Sisters have continued to happily be residents of St. Leo for all 125 years of the town's incorporation.  And the GREAT WORK goes on.
As long as there are gaps between our ideals and our reality, there will always be great work to be done.  Our founding sisters, and the women who followed them into community, knew that they probably would not live to see all the changes they promoted.  Little did they know the hotel-turned-convent they so carefully hauled to the shores of Lake Jovita would be demolished in 1961, a new priory (as it was called then) erected and eventually sold to Saint Leo University.
We face challenges our foremothers could not have imagined.  And, our "daughters" will face challenges unimaginable to us.  This is part of our Florida Benedictine women's experience – we still remember in the beginning our founders were told: if it doesn't work, don't come back.  We work to compassionate and caring, to preserve the earth and steward our resources, to keep faith with our founding ideals and to enflesh them into a reality worthy of those who will inherit what we build today.
~ Reflection by Sister Roberta Bailey, OSB, Prioress