The theme of this Gospel is clearly love but not the kind of love we see on film or on TV, hear on the radio or a CD.  In church hymns, too, we frequently sing about love.  But, as Oliver sings in the musical based on Charles Dickens' story, "Where is love?"  We ask: What is love?
Father Andrew reminded us the other day, love is a gift freely given.  If we receive it freely, dare we do anything less.  For just a minute, let's step aside to look at where John places this teaching.  It fits squarely between the Gospel readings from this morning (Saturday) and yesterday (Friday) and immediately after the Gospel proclaimed last Sunday: the vine and branches where we were reminded that it is only in our union with Jesus that we can render fruitful service.
Sometimes we hear this word "love" used in such a way that we degrade, lessen or weaken its significance.  The way Jesus, or in this case John, uses the word for love just doesn't apply to chocolate, a long drink or an afternoon nap.  We may like and enjoy those things a lot, but we don't "love" them in the way we love our neighbor.
It is notable, I think, that Jesus gives us just ONE love commandment.  He does not say, "Love me, love my father or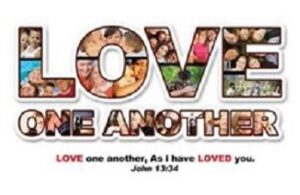 love God as I have loved you."  No, he says, "If you want to be my disciple, then you must love one another."  If we really love our brothers and sisters we do not have to worry if we love God.  But, if we do not love everyone unconditionally, then there is no other way we can claim to love Jesus.  We need to love like God loves – without exception.
We have the perfect model in the love between the Father and the Son – selfless giving.  The Father has given all things to the Son.  The Son lays down his life in obedience to the Father.  One scholar writes that, "Love is the will to good…One who loves promotes the good, or wills the benefit and strength, of the beloved – this is the nature of God."
Deep down, we all want to love and be loved.  We like people to be our friends.  Yet, because of our past experiences, the influence of parents and other people around us, the pressures of our society and our traditions, and plain bad habits, we often do not know how to love, do not know how to forgive, do not know how to be reconciled.  We do not practice the skills we know that promote healthy relationships.
Sometimes people will love us back, sometimes they will not.  People learn to love by being loved.  We learn to share love and communicate our feelings by imitating the models we live with.  Remember your mom coaxing you when you received a gift or a compliment: "What do you say?"
When I genuinely love others, there will always be some who cannot love me back but there will be others who will really respond in love.  And it may be that my love has empowered them to be loving too.  Benedict reminds us in the Prologue to the Rule – we heard it read just yesterday: "See how the Lord in his love shows us the way of life…. What is not possible to us by nature, let us ask the Holy One to supply by the help of grace … while there is still time, while we are in this body and have time to accomplish all these things … we must run and do now what will profit us forever."  We know, but too often forget, that Jesus never told his disciples to LIKE each other.  He said, "LOVE one another."  And how does Jesus express love?  We know it is freely and without reserve.  He gives us a "how to" when He says: "I am gentle and humble of heart."  This is how we are to love one another: in humility with gentleness.  Just as we cradle and carry a precious glass object, we value and treasure our free gift of love with special caring.
It's a life-long journey, isn't it?  We may have fleeting moments when "perfect love" rises to the surface of our motivation to action.  I think it was St. Irenaeus who said a very long time ago that "The glory of God is a person fully alive."  (John Powell)
You see, love is God's very nature – God cannot not love.  How does God love?  Full hearted and unconditionally.  Jesus gives us just one commandment that encompasses all the others.  He does not say, "Love Me as I have loved you."  No, he says, "If you want to be my disciple, then you must love one another, as I have loved you."  If we really love our brothers and sisters, including strangers and even enemies, we do not have to worry if we love God.  In one of our "love" hymns, we sing "Where love abides, our God is ever there."
St. John does not say to us, "Wherever there are Christians, there is God" or "Wherever there is a Christian church, there is God."  No, he says, "Wherever there is love, there is God."  Wherever there is a person filled with love for others, God is there.
Continue Reading