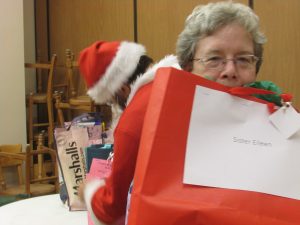 If Virginia were to write to the Benedictine Sisters of Florida to ask the question, "Is there really a Santa Claus?", the Sisters would respond with a resounding YES.  They would add that he lives in the hearts of the Columbiettes of St. Mark the Evangelist Catholic Parish in Tampa, Florida.
On July 16, 2022, the Sisters were graced with a visit by the Columbiettes to celebrate "Christmas in July".  The Columbiettes hosted a barbeque luncheon in the monastery dining room.   Sisters and members of the Columbiettes enjoyed getting to know one another as they ate.   Each sister received a personalized gift bag.
The Columbiettes are a witness to the loving generosity of our God.  They find joy in giving to others as St. Nicholas did so many centuries ago. May their example inspire us all to achieve ever greater heights of virtue!
Continue Reading