Because you were faithful in small matters…
come, share your Master's joy.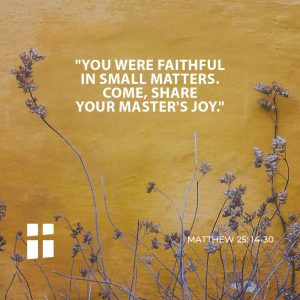 Like the Master in this Gospel, St. Benedict teaches us "journey lessons."  We sense a journey motif from the opening words of Benedict's Rule when he bids us: "Listen! The labor of obedience will bring you back ("coming back" requires a journey, doesn't it?)  "Let us get up then (he says) at long last, for the Scriptures rouse us when they say: "It is high time for us to arise from sleep… (come from the land of your dreams) …run while you have the light… go out to seek workers in the multitude of the people …".  Listen to Benedict: "moving on in your journey of faith, (and life in the monastery) "You will say, 'Here I am Lord'."   Then he tells us how to prepare for our journey: "Clothed with faith and the performance of good works, let us set out on this way, with the Gospel for our guide…. Be just in all your dealings, speak the truth from the heart and do not practice deceit or listen to slander."
By the time Benedict wrote Chapter 67 one can tell he's had some experience with monks who journeyed far from the home monastery.  We know that Benedict, in his youth, had escaped "big city life."  So, he wanted to protect his monks from the evils and temptations of the prevailing society.  Those at home are to remember the absent ones in prayer for their confrere's safety and protection from temptation.
I have to smile when I read what Benedict cautions next.  He certainly knew human nature: "No one should presume to relate what was seen or heard outside the monastery."  Benedict didn't want stories of the world to creep in and cause dissension or dissatisfaction to rankle or upset his community.  We need to be on guard that we balance charitable interest in each other versus the drive to know every intimate detail about what was seen or heard on the other's journey.
Benedict is solicitous of his monks sent on a journey that they appear neither embarrassingly shabby nor be clad in "rich folks" clothing.  He charges the superior with checking that hemlines are a decent length and the members' clothing be suited to the weather.   And, it's obvious that times were different when Benedict walked the earth.  He makes provision that the members be LOANED underwear from the wardrobe that is to be laundered and returned after the trip.
In line with his admonition to pray always, Benedict reminds his monks when they are on a journey to keep an eye on the sun and listen for the bells from neighboring abbeys announcing prayer times. Benedict reminds them though at a distance too far to join the community, they should "observe the prescribed hours" as best they can.  Thus, probably began the custom of the Angelus.
The Rule closes with this journey-question: "Are you hastening toward your heavenly home?  Then keep this little rule … as you set out for loftier summits of the teaching and virtues we've mentioned."  Benedict, in his own unique way, shares Paul's message to the Philippians: "Whatever you have learned or received or heard from me or seen in me—put it into practice. And the God of peace will be with you."   Benedict adds this promise: "Under God's protection" (together) we will reach our heavenly home."  That's the same promise Jesus makes to his trustworthy followers: Because "You were faithful in small matters … come, share your Master's joy."
~Reflection by Sister Roberta Bailey, OSB
Have a pleasant Thanksgiving… give thanks for all that has been and open your heart to all that will be…give another a reason to rejoice on this day.
First Reading:   Proverbs 31         Second Reading:  1 Thessalonians 5:1-6
Gospel:   Matthew 25:14-30
Continue Reading