World Day of Prayer for Vocations
"Dream of Joseph" from Pope Francis
This evening I'd like to share with you excerpts from Pope Francis' message for the 2021 World Day Prayer for Vocations.  Back in December 2020, His Holiness Pope Francis declared Saint Joseph "Patron of the Universal Church" as he opened the Year of Joseph.  His letter to us for today's International day of prayer for Church Vocations is entitled "Saint Joseph: The Dream of Vocation."  Pope Francis writes: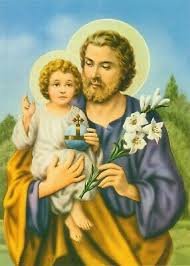 God looks on the heart and in Saint Joseph he recognized the heart of a father, able to give and generate life in the midst of daily routines.  Vocations have this same goal: to beget and renew lives every day.  The Lord desires to shape the hearts of fathers and mothers: hearts that are open, capable of great initiatives, generous in self-giving, compassionate in comforting anxieties and steadfast in strengthening hopes.  The priesthood and the consecrated life greatly need these qualities nowadays, in times marked by fragility but also by the sufferings due to the pandemic, which has spawned uncertainties and fears about the future and the very meaning of life.  Saint Joseph comes to meet us in his gentle way, as one of "the saints next door."  At the same time, his strong witness can guide us on the journey.
Saint Joseph suggests to us key words for each individual's vocation.  The first is dream.  If we were to ask people to express in one word their life's dream, it would not be difficult to imagine the answer: "to be loved."  It is love that gives meaning to life, because it reveals life's mystery.  Indeed, we only have life if we give it; we truly possess it only if we generously give it away.  God's call always urges us to take a first step, to give ourselves, to press forward.  There can be no faith without risk.  Every "yes" bears fruit because it becomes part of a larger design, of which we glimpse only details, but which the divine Artist knows and carries out, making of every life a masterpiece.  Every true vocation is born of the gift of oneself, which is the fruit of mature sacrifice.  Our gift of self will not come to fulfilment if it stops at sacrifice.  Were that the case, instead of becoming a sign of the beauty and joy of love, the gift of self would risk being an expression of unhappiness, sadness and frustration.
Pope Francis continues: "I like to think of Saint Joseph, as the protector of vocations."  In fact, from his willingness to serve comes his concern to protect.  The Gospel tells us that Joseph wasted no time fretting over things he could not control, in order to give full attention to those entrusted to his care.  Such thoughtful concern is the sign of a true vocation, the testimony of a life touched by the love of God.  What a beautiful example of Christian life we give when we refuse to pursue our ambitions or indulge in our illusions, but instead care for what the Lord has entrusted to us through the Church!  God then pours out his Spirit and creativity upon us – he works wonders in us, as he did in Joseph.
Together with God's call which makes our greatest dreams come true, and our response which is made up of generous service and attentive care, there is (another) characteristic of Saint Joseph's daily life and our Christian vocation, namely fidelity.  Joseph is the "righteous man who daily perseveres in quietly serving God and God's plans."  At a particularly difficult moment in his life, he thoughtfully considered what to do.  He did not yield to the temptation to act rashly, simply following his instincts or living for the moment.  Instead, he pondered things patiently.  He knew that success in life is built on constant fidelity to important decisions.  This was reflected in his perseverance in plying the trade of a humble carpenter, a quiet perseverance that made no news in his own time, yet has inspired the daily lives of countless Christians ever since.  For a vocation – like life itself – matures only through daily fidelity.
How is such fidelity nurtured?  In the light of God's own faithfulness.  The first words that Saint Joseph heard in a dream were an invitation not to be afraid, because God remains ever faithful to his promises.  Do not be afraid: these words the Lord also addresses to you whenever you feel that, even amid uncertainty and hesitation, you can no longer delay your desire to give your life to him.  He repeats these words when, perhaps amid trials and misunderstandings, you seek to follow his will every day, wherever you find yourself.  They are words you will hear anew, at every step of your vocation, as you return to your first love.  They are a refrain accompanying all those who – like Saint Joseph – say yes to God with their lives through their fidelity each day.
This fidelity is the secret of joy.  A hymn in the liturgy speaks of the "transparent joy" present in the home of Nazareth.  It is the joy of simplicity, the joy experienced daily by those who care for what truly matters: faithful closeness to God and to our neighbor.  How good it would be if the same atmosphere, simple and radiant, sober and hopeful, were to pervade our seminaries, religious houses and presbyteries!  Pope Francis continues…"I pray that you will experience this same joy, (my) dear brothers and sisters who have generously made God the dream of your lives, serving God through a fidelity that is a powerful testimony in an age of fleeting choices and emotions that bring no lasting joy.  May Saint Joseph, protector of vocations, accompany you with his fatherly heart!"
Please pray for perseverance for our postulants: Marietta and Kathleen.
If it be God's will, we pray: send vocations to our community.
God bless  you!  Stay safe – keep healthy and happy and never lose hope – believe that God has a plan that is unfolded for us day-by-day … which is all we need one-day-at-a-time.
~Sister Roberta Bailey, OSB, Prioress
For the full text of Pope Francis letter (cited in the attached reflection) click on the link below.
Continue Reading