Do and Be
Two unconnected but related phrases jump out here in this Gospel: "You – who do you say that I am?"  And, "Jesus strictly ordered them to tell no one he was the Christ."  If we finally figure out who Jesus is but we can't tell anyone, what're we supposed to do with that long sought-after revelation?
I think the operative word here is "tell."  We're not meant to tell others what or who to believe so much as to be a model that reveals more than words can say.  To let our lives be a "show and tell" of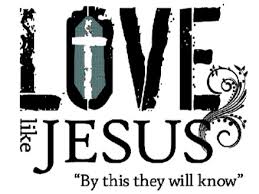 mutual love and respect, of deference to each other – a "flesh and blood" model of our aim to build community, and to maintain a balance in our communal and personal lives of prayer and work, art and music and poetry.  A living example of how "give and take" is part of life-long learning and nurtures our love for each other in spite of – no, because it causes us to see our own shadow side.  Our modulated and friendly laughter, our expressions of gratitude with a simple phrase like "thank you – our hospitality and sharing.  In other words: our gentle determination to be Christ-like AND to BE Christ to others.  Our tenor of voice in our exchanges, our harmony in prayer and song, our attentive awareness to join the pace of our liturgy, our acknowledgement of Christ in the other when we pass in the hallways – all this "tells" who our Beloved model is.
And, you know what it takes to DO and BE this.  That's the answer to the question Jesus asks: "Who do YOU say that I am?"  It takes close familiarity with WHO Jesus is.  You've probably heard the expression "familiarity breeds contempt."  But the opposite is what's true for those who seek to know Jesus – really to know anyone.  Time spent in Jesus' company – in the company of our companions – fosters intimacy, closeness and an ease in each other's company.  It's true, too, for all who seek to build a relationship with another person or persons in community.  It's a powerful realization when we stop to think: each one of us is responsible for the community we create.
One of the many stories Monsignor Cummings (1918-2020) shared with me in his later years – I'd first met "Father George" in 1949 as a youngster at Good Counsel Camp – was also quoted at his funeral.  It serves to remind all of us of what it takes to be a loyal follower, an imitator of Christ – a true servant.
When Monsignor was around 50 years a priest, (this true story goes) a young intern at Good Counsel Camp asked Father George: "When did you decide to become a priest?"  Without skipping a beat, Cummings answered: "This morning."  He added as aside, "Every day I wake up and I recommit myself, to serving as a priest."
That's a true vocation story!  Each and every day, we hear Jesus ask: "Who do you say that I am."  Whatever our response, He cautions: "Tell no one I am the Christ." …  "Rather, my friend, recommit yourself to be my instrument of peace in your community … who, in turn, together will be a living example of a "peaceable kingdom" to all who witness your way of life, and your living.  "For where God has placed you, that is your pulpit."
   [TUBI movie "The Current."]
~Reflection by Sister Roberta Bailey, OSB, Prioress
First Reading: Isaiah 22:19-23       Second Reading: Romans 17:33-36
Gospel Matthew 16:13-20
Continue Reading