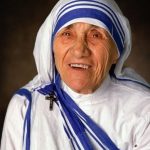 PRAYER: "I know that God won't give me anything I can't handle.  I just wish He didn't trust me so much."  (Saint Teresa of Calcutta)
This past Thursday our nation celebrated the National Day of Prayer.  The Bill for the observance was initiated by Conrad Hilton, (founder of Hilton hotels) and was signed into law in April 1952 by President Truman.  Here's an interest note: the president of the U.S. is required by law to sign a proclamation each year, encouraging all Americans to pray on the first Thursday in May.
Thinking about "prayer" – (but not directly connecting it to the Gospel just read) I find it curious that the disciples ask Jesus to teach them to pray "just as John taught his disciples."  They wanted the words, didn't they, for certainly Jesus had given them an example of prayer.  He had modeled time alone, told them to "go to your room and pray," raised his eyes, hands and voice in intercessory prayer before miraculous healings.  But they, like we, wanted "the words to say."  We forget sometimes that when we descend into our hearts in silent waiting that it is there we meet the Spirit who is already praying within us.
We look for "words," don't we … in a prayer book, on a holy card, in the life of a saint ….  We look for a guide, a director, a mentor.  I don't mean to belittle the worthwhile role these companions play in our lives which is often critical to our spiritual growth and our salvation.  We just need to keep in mind, and really believe, the tremendous role that Scripture plays in our lives.  Jesus promised: "The Spirit of Truth will show you all things."  St. Paul reminds us: "If you do these things you can be saved: be joyful at all times, pray without ceasing and give thanks for all things."
Let's look for a few minutes at the shortened version of what we call the "Lord's Prayer."  In it we pray "give us each day" EACH DAY – not a train load of blessings to last us all year – just today's help, Lord, that's all I am asking … not even tomorrow's help … just get me through today – I trust you will be there tomorrow – even when I feel like Mother Teresa once prayed: "I KNOW GOD WON'T GIVE ME ANYTHING I CAN'T HANDLE …  I JUST WISH HE DIDN'T TRUST ME SO MUCH."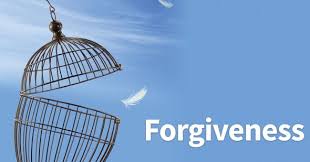 In Luke's version of the Lord's Prayer, have you noticed the difference in the phrase regarding forgiveness?  We pray, "forgive us our sins for we ourselves forgive everyone in debt to us."  A strong, firm statement of my willingness to forgive everyone.  In the traditional version we pray: forgive us our debts, or trespasses, as we forgive our debtors…"  It sounds as if God's forgiveness to me is measured by my willingness to forgive others.
I like Luke's version even while I feel it is a greater challenge.  I commit, I promise: I will forgive EVERYONE who is in debt to me.  No willy-nilly "this one I forgive but not that one, at least not today."  When we pray Luke's words we vow "I forgive EVERYONE."  Think of that the next time you pray the Our Father … at Mass or in private prayer, you are agreeing to forgive EVERYONE.  What a huge and freeing commitment.
And we promise to do it day after day after day.  Repetitious practice isn't just what we may have told our mothers seemed "stupid" and useless. Things like making the bed that we are only going to rumple up in a few hours or doing the dishes after every meal instead of collecting them until the cupboard is bare or cleaning the toilet that someone is going to mess up the minute I leave the bathroom.  Repetition perfects, and makes permanent skill in music, in handwriting, in the acquisition of good, or bad habits.  And, in the repetition of daily chores (even the tasks only God sees) there is a meaningful expression of hospitality to myself and my companions.  In the repetition of the Psalms, of favorite prayers, and liturgical actions there is a meaningful acknowledgment of our creaturely participation in God's creative act, day after day, after day.
So, we pray day after day for vocations, for peace, for relief from suffering and war and for a forgiving heart.  Through our community and personal prayer we feed not only our own spirits, but we are, so to speak, attached by a spiritual cord to everyone we have ever come into contact with. We feed ourselves spiritually, and we also nourish all those contacts through our prayers.  Our prayer is universal.  We forgive everyone who is in debt to us.   Note, in Luke's memory Jesus did not say "everyone to whom we owe a debt" … rather those who are in debt to us.  Who would that be?  And, why would someone be in debt to me?
~Reflection by Sister Roberta Bailey, OSB, Prioress
First reading Acts 5:27-32, 40b-41 Second Reading Revelation 5:11-14
Gospel John 21:1-14
Continue Reading