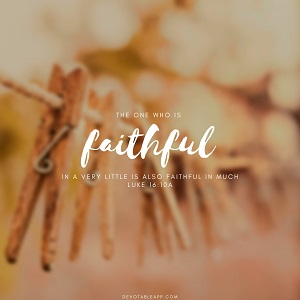 This parable, like many of Jesus' folksy stories, is challenging to explain.  "Make friends for yourselves with dishonest wealth… "  (Luke 16:9)  But since it came from the mouth of God's own Son it must be important for us to grapple with.  Our application is shaped and colored by the Scripture readings we had this past week and the section of the Holy Rule read each day at Evening Prayer.  (Chapter 2 Qualities of the Superior)
The Gospel tells us if we can't be trusted in little matters we certainly cannot be trusted with great ones. Now don't go figuring that you are not a leader in a Benedictine community because each is a leader in her own realm. It could be tempting to breeze through Benedict's Chapter 2 with an attitude of "ho hum" – that's for her, glad it's not me and I hope she is listening.
To say that Benedict holds high standards for the superior may be an understatement.  Notice he places the chapter on leadership qualities early in the Rule, only after he defines the type of monastic for whom he is writing.  We know he is writing about the qualities of the leaders of the "strongest kind of monastics"; the ones who have chosen to live under a Rule and a monastic leader.
Benedict may have left it unsaid in Chapter 2, but he sprinkles exhortations about qualities of leadership for all the members elsewhere in the Rule.  Benedict echoes Jesus when he presses home that the "person who is dishonest in very small matters will also be dishonest in great ones."  It does not require a great leap to apply this saying to all of us – the youngest or newest in community to the eldest and more seasoned member.
Benedict is waving a banner before our eyes of what each of us always need to be so that a call to leadership does not cause an abrupt change of lifestyle.  Benedict knew from his own experience that the leader's role in community is time-limited.  He himself had experienced both a call to leadership and a call to a hermit's life.  He must have foreseen, perhaps with a nudge from Scholastica, that the monastic must be prepared in all aspects of her life to move in and out of leadership roles.
If the individual member does not faithfully engage in a life-long endeavor to develop the attitudes, skills, and qualities that Benedict lays out for the superior, guess what?  An election or appointment to a leadership position will not ipso facto endow a generous, caring disposition.  If a person has not learned to be accountable for her own actions (or at least tried to be), and to be solicitous of others, an imposition of hands, a community affirmation, or a bishop's blessing will not infuse the gift of saintliness.
Do you recall the lesson of the geese who fly in "V" formation?  As each bird flaps its wings, it creates an uplift for the bird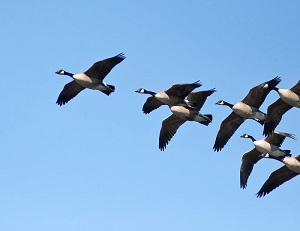 following it.  [Drivers on I-75 try to take advantage of this dynamic by traveling in the tail wind of a semi.]  Combined, the whole flock of geese adds 71% greater flying range than if one flew alone.  Whenever a goose falls out of formation, it suddenly feels drag and resistance and quickly gets back into formation.  When the lead goose gets tired, it rotates back into the formation and another goose flies at the point position.   The geese in the formation honk from behind to encourage those in front to keep up their speed.
Benedict smiles upon the leaders in community, consoling them with the fact that they do not lack resources.  He quotes Psalm 33: "Those who fear God lack nothing."  In helping others, the leader achieves the amendment of her own faults.  Benedict does not mention, but I bet he knew, the gratifying support the superior receives daily in unpretentious, quiet affirmations from individual members.  Like the story of the geese, when the leader is "shot down" by illness, or by words or attitudes in monastic life, individual members drop out of formation to help, protect, and reaffirm the leader until she is either able to again take the lead or fly in formation with the other members.
Jesus reminds us in the parable in the Gospel that, in the end, it doesn't matter when you came into community, parenthood or ministry of any sort.  The reward for putting your hand to the plow will be the same: a day's work in the kingdom for God's daily wage.  The last will receive the same as the first.   It's been that way for all eternity.  We'll find when we get there (I'm guessing) that our view from the mansion God is saving for each of us is just as magnificent as that of Moses and Adam and Eve and our favorite saints: Everyone's mansion has a "throne-side view" of heavenly glory.
~by Sister Roberta Bailey, OSB
First Reading  Amos 8:5-7     
Second Reading  1 Timothy 2:1-8
Gospel Reading  Luke 16:1-13
Continue Reading