Memorial Day 2021
Memorial Day, originally called Decoration Day, is a day of remembrance for those who have died in service of the United States of America. It's difficult to prove the origins of this day as over two dozen towns and cities lay claim to be the birthplace. In May 1966, President Lyndon Johnson stepped in and officially declared Waterloo N.Y. the birthplace of Memorial Day.
Memorial Day history couldn't be complete without the birth of the "National Moment of Remembrance," which was a resolution passed on December of 2000 which asks that at 3 p.m. local time, for all Americans "To voluntarily and informally observe in their own way a moment of remembrance and respect, pausing from whatever they are doing for a moment of silence or listening to 'Taps'."
The following are opportunities you might want to consider:
May 28 – Gold Star Family Candlelight Vigil – The National Veterans Memorial and Museum is holding a Gold Star Family Candlelight Vigil at 8pm ET to honor families who have lost a loved one in service to our country.
Join here – https://nationalvmm.org/event/gold-star-candlelight-vigil/
May 30 – The National Veterans Memorial and Museum Memorial Day Remembrance Ceremony – 10am ET
Join here – https://www.youtube.com/channel/UCixPiGqTSLPAjjY4PKRMndg
May 31 – For Those Who Serve Statue Moment of Contemplation – In 2008, Saint Leo University commissioned a bronze sculpture for our campus called "For Those Who Serve" to commemorate 35 years of educating the men and women of our Nation's armed forces. All day, spend a moment of quiet contemplation at the Memorial Day wreath laid to honor our fallen heroes.
May 31 – #GoSilent with Iraq and Afghanistan Veterans of America (IAVA) – At 3 pm ET, gather your friends and family across the country and pause with us for a national moment of silence to honor those who have made the ultimate sacrifice.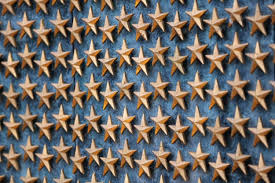 Continue Reading