This coming year Pope Francis has designated the "Year of St. Joseph" marking the 150th anniversary of Pius IX's declaration of St. Joseph as Patron of the Universal Church.  Francis describes Joseph as "a beloved father, tender and loving, obedient and accepting; a father who is creatively courageous, a working father, a father in the shadows."
This weekend the Church turns our focus to Jesus' earthly family with the feast of the Holy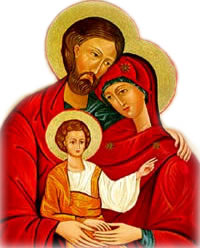 Family.  It's natural when we celebrate the birth of the child Jesus that we would reflect on His family.  Do you realize that for every one year of his public life, Jesus spent ten years in family life?  That helps us understand the importance and priority He gave to family life.
What might that mean to (and for) us as monastics who we live in an intentional family we call community.  As Benedictines our lives are guided by the simple, yet profound, guidelines designed over 1500 years ago by the man Benedict.  His Rule gives us a picture of a man of great wisdom, compassion and much common sense. (I believe, we can agree, his guidelines were influenced to a great degree by his twin sister Scholastica.)
It is the spirit of the Rule that has survived.  Benedict had a knack for tempering discipline with compassion that makes the Rule come alive for so many.  His prudence shines through when, in so many words, he says: this is what works for us now – if the arrangement of the psalmody, the daily schedule and other daily living details don't fit your need, change it.
If we only know the first word of the Rule "LISTEN" what an impact it could make on our own happiness and harmony between peoples.  To truly listen requires an attentive spirit … not a scramble to respond with advice, a witty remark or a "I've got a better one" or "I know exactly how you feel."  When we truly listen to another we can identify their feeling, let it resonant within and know that very often all the person wants is a signal that we care.
Benedict's Rule is not intended to be a great and lofty treatise on prayer or spirituality.  It's just plain "down to earth" advice.  He says let this rule be read 3 times, cover to cover, to the potential member so she understands exactly what she is getting herself into.  The Rule is filled with practical guidance for ordinary people to live together peacefully. Benedict expected his followers to work hard, study hard and pray hard.  He recognized much of the study and work is an interior process – a true "self-study" steeped in a quiet atmosphere that is broken only by the sounds of nature, farm machinery, a printing press or sewing machine or the scratch of a calligraphy pen.  This kind of soul work begins in private prayer enriched in communal prayer.
I think Benedict must have valued the idea of cross-training.  Given the rotation of duties and positions in community, all members do well to take to heart the advice and warnings given to the various community officials: the prioress, the guest mistress and the porter; the cellarer, the artisans and the sub-prioress.  We all need to be aware of the final judgment – be strong, and at the same time, never be ashamed to have a tender heart.
From that first word in his Rule: LISTEN… to his advice to begin every good work with prayer … to keeping a lamp burning at night … and don't loiter outside chapel if you are late … it is evident that Benedict saw God at work within the ordinary events of everyday life with all its joys and sorrows, struggles and high points, funerals and jubilees, comings and goings.  In Psalm 27, and often as an antiphon, we pray: "One thing I seek: to dwell in your presence, O God, all the days of my life."  And, that presence does not refer only to our final day on earth or future eternal life in heaven.  It is not found only in the Eucharistic presence in the chapel – it is EVERYWHERE – in the Voice of the Spirit working in our personal lives and in the voices of each other and the sounds of daily living.
So, LISTEN – to the Voice of your God within – and listen with your heart to your comrades' hungers and longings.  Just LISTEN – with your ears certainly but also with your eyes and heart and feelings.  The quality of our life in community, is shaped by each of us.
~ Reflection by Sister Roberta Bailey, OSB
First Reading  Genesis 15:1-6; 21:1-3    Second Reading  Colossians 3:12-21)
Gospel  Luke 2:22-40
Continue Reading