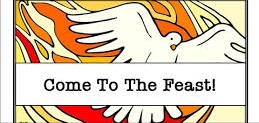 The posters have gone up.  The invitations were mailed; the Facebook word spread, it's all over social media, the parish bulletin insert was published and the homemade summons posted on the town bulletin board.  The word has spread, maybe further and wider than you really wanted.  The "www" prefix in our website address was true to its meaning: "world wide web."  Almost literally EVERYBODY has heard about it.  "Everything is ready, come to the feast!"  What feast?  Well, in the Gospel story it's a wedding feast.
A word of caution!  Don't be too quick to conclude that the only kind of "feast" this parable is referring to is the Eucharistic banquet.  In our everyday lives, it may well be a Eucharistic celebration.  Or it could be the daily Divine Office or a Communal Prayer service or maybe a Community party or meal or – please NO, a meeting!  Or perhaps, (for many of us) it's a T4 (DVDs) viewing and discussion.  Or maybe a ZOOM invitation to a spiritual topic conversation, or an invitation to engage in an enrichment or professional development topic dialogue.  Could also be a call for help with a volunteer project, a driver needed, help in the kitchen or garden, or someone to do laundry or clean a bathroom.  Perhaps a listening ear, or little tech assistance, or a walking companion.
Paul in his letter to the Hebrews presents the word of God as a "consuming fire."  (Hebrews 12:29).  We've all witnessed – at least on TV – the all-consuming nature of fire.  It ravages and devours everything in its path including animal and human life who cannot outrun its unpredictable path.  The wind shifts and one house is saved while a nearby structure goes up in flames.
But you've also heard of "controlled burns" – fires that are deliberately lit, protected and coaxed along – for a number of reasons.  By ridding forest areas of dead leaves, tree limbs, and other debris, a prescribed burn can help prevent destructive wildfires, reduce insect populations, destroy invasive plants and rejuvenate the forest floor or a huge farm field.
When to extinguish?  When to coax the flame?  Does it have to remain static?  Listen intently!  Because in the case of God's word, YOU – can't –  control – it!  The "burn" is in God's control.  And, it's "burning" to be heard.
Listen intently – with the ear of your heart.  God's word; your special word, probably won't be broadcast with stereo amps or scrolled along the bottom of the TV screen.  Most likely it's being whispered in your dreams, as you waken, and everywhere you turn.  Hear it?  "Everything is ready, come to the feast!" 
As today's parable ends, we are reminded we'd best do our homework – come prepared.  Jesus says, "Remember to bring your party garment."  So, you better check out the party theme: is it a costume event or a black tie affair or a "come as you are" gathering?  And, I dare say, in the case of this party – God's party – you better come on time.  When the door is closed, it will be locked from the inside – you can't use your key or whisper a password.  There is no back door to seek in.  You can't ride on the Blessed Mother's cape tails.  When the door closes, "outside there will be weeping, wailing and gnashing of teeth."
All the while, be comforted, and assured, by the words of Paul in the Second Reading: "My God will fully supply whatever I need, in accord with God's glorious riches."  "Everything is ready, come to the feast!" 

~Reflection by S. Roberta Bailey, O.S.B., Prioress
Maternity of Mary Readings: Isaiah 25:6-10     Second: Philippians 4:13-20       Gospel Matthew 22:1-14
Continue Reading