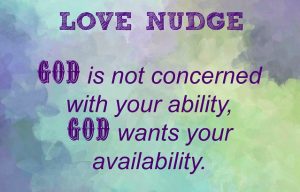 Throughout his Gospel, Luke demonstrates that God's promises to Israel are fulfilled in the person of Jesus.  In this part of Luke's story, Jesus and his disciples are approaching the city of Naim when they come upon a large funeral procession. Luke does not tell us how Jesus knows that the deceased is an only son of a widow.  Did He know the family or was the scene and the ritual all too familiar to him and his disciples?   Whatever the reason, had Jesus not been present to the moment and available to its significance it may have gone without noticed or ignored by the evangelist as well as the passersby.
Before I continue: a disclaimer is called for: Much of what follows is borrowed or adapted from Robert Wicks' little volume entitled AVAILABLILTY.
The virtue, the gift of availability is indeed a simple but a great gift.  The freedom to be present when needed is something special.  It is an opportunity to be spiritual – to be open to relationship in the deepest, most elegant sense of the term.  However, this wonderful state of living often seems hidden or distorted.  Today, availability is a premium because it is not only a gift but also sometimes a great challenge for many of us – one that we need to more fully understand and address if we are to be able to continue to be present in the full sense of the word.  Availability is not only a gift; it is also a problem.
Some of us are "too available."  Thus, true availability becomes watered down. We become too busy to pray, too tired to reflect, and, ironically, too stimulated interpersonally present to others.
Others among us pull back in anxiety.  Being available to God seems to raise too many questions or doubts.  Spending time alone is no longer relaxing; instead we feel lonely or preoccupied with our faults and failures.  And being with others doesn't seem to help either; in some cases, we feel used, left out, or misunderstood.  The end result is that our expectations for intimacy are not realized and we feel the need to pull back more than ever.
The situation is not merely a sad one; it is a dangerous.  Without a sense of availability to self, others, and God, life loses it spirituality.  Relationships suffer, break down, and we are left with a void or sense of confusion.
We must address availability with the imperative that openness to the personal and interpersonal is essential if the Spirit is to be heard and felt. Any blocks to relationship must be removed if we are to prepare ourselves always for the continual coming of what is Good.  The very vitality of living out the Gospel depends on our being involved –  in an ongoing way – in the process.
When we spend time, especially unplanned time, with others it is not so much that we TAKE TIME OUT OUR DAY to be with them as that we had make the other part of our life.  For instance, today's funeral for Kurt … because we generously welcomed them into our home God, through us, was enabled to share compassion, comfort and hospitality to a large group of mourners.
Jesus absorbed the widow's sorry, made it his own and offered deep compassion and consolation to her even before he raised her boy from the funeral bier.  Did Mary witness this incident or did others relate to her?  Later when her son died do you think  she recalled he'd brought this Only son back, and Lazarus, too, back to life?  Did she live in hope that such a miracle would be granted her son?  Someday we may know.
Picking up cues, recognizing a silent need – reaching into self and out to others: this kind of attitude is at the heart of a life that reflects an appreciation of the gift of availability.  This attitude merits being kept in mind as we look at some of the basic problems we encounter in trying to be available to ourselves, others, and God.  Though the concept is simple, living a life of true availability isn't easy for most of us.  It takes a conscious desire and effort to be present to all the nuances of the present moment.  Some people see only the dark clouds gathering; others see the rainbow emerging.  Let us be present to the moments when rainbows quietly and slowly are revealed in our lives.  Jesus would have missed the funeral scene if he had been too intent on getting to the farmer's market in town.
~Reflection by Sister Roberta Bailey, OSB, Prioress
Continue Reading