I like this Gospel story from Luke – used on Palm Sunday for the Blessing of the Palms.  I find Jesus' directive intriguing – has an ESP flavor.  The first reading in the Mass for tomorrow, from Isaiah tells me: "Morning after morning God opens my ear that I may hear."  We know Luke wasn't there on the first Palm Sunday or at the last supper.  So, this is an incident that he recalled his friends telling him.  His ear was open to hear their story and recognize its significance.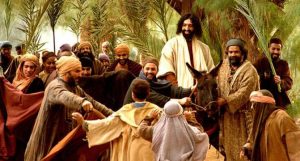 And, it's a challenging one …  "Go into the village and immediately you will find an ass tethered, and a colt with her.  …  Untie the animals and bring them here to me."  What a story of trust: Jesus trusts that the disciples will do exactly what he tells
them.  The disciples trust that what Jesus asks them can be done … for He never asks of us something that can't be done.  The owners of the donkey and the supper room trust the disciples' honesty in their request.  What implicit trust these men had in Jesus: you'll see an ass, a donkey – take it.
In another gospel the story continues: Follow the man with the water jar – most likely a servant – to the house he enters – and ask the owner where the feast is being held or where we can prepare it.  The title "The Teacher" conveyed all the man needed to hear.  When Jesus comes to St. Leo looking for a place to eat a Passover meal with friends, do I open my door to say, "Come In – the place is yours – stay as long as you like?"
It reminds me of an old fable about the colt that carried Jesus on Palm Sunday.  It seems the colt thought that the reception was organized to honor him.  "I am a unique colt," the excited animal thought.  When he asked his mother the next day if he could walk down the same street alone and be honored again, his mother said, "No, you are nothing without Him who was riding you."  Five days later, the colt saw a huge crowd of people in the street.  It was Friday, and the soldiers were taking Jesus to Calvary.  The colt could not resist the temptation of another royal reception.  Ignoring the warning of his mother, he ran to the street, but he had to flee for his life as soldiers chased him and people stoned him.  Thus, the colt finally learned the lesson that he was only a poor donkey without Jesus to ride on him.
In the Gospel story, at least this time around, it appears what Jesus wants – Jesus gets!  At least today …  this time – but not for long.  Or, do I have that wrong?  Jesus may not have wanted the suffering (afterall he was human and could experience all our feelings of dread) but he does want what His Father wants – a procession with pomp and circumstance through the city streets, an event that shook the whole city.  The actual "quake" came later.  This is a foreshadowing of the quake that will shake the whole world 5 days later – at Jesus' crucifixion.  Today, a procession with all the hoopla that surrounds a parade; five days later we witness a procession of ignominy with Jesus dragging a heavy cross.
I am reminded of another Palm Sunday story.  A little boy was sick and wasn't able to go to church on Palm Sunday.  When his dad came home with a palm branch, the boy asked about it.  "Well, you see," said his dad, "when Jesus came into town, everyone waved palm branches to honor him; so we got palm branches today at church."  The child grimaced and responded "Wouldn't you know it!  The one Sunday I can't go to church, and Jesus shows up!"
Everyday concerns and obligations may fill the first few days of the coming week, but when the sacred Triduum opens on Thursday evening, let's endeavor to personally and communally contribute to an atmosphere of quiet, solemn reflection …  to set a tone that says something of great religious significance is underway.  Let us be contemplative windows into the story we commemorate – an expression of gratitude, a repayment – or a paying forward, for Jesus' expression of GREAT love for us!   Recall the story of the donkey.  As we enter Holy Week, let us examine our lives to see whether we carry Jesus and bear witness to him through our living or are we Christian in name only.
Tomorrow when we follow the palm-decorated cross in procession into the chapel…  or maybe later in the day when you weave a cross with your palm branch, ask yourself: "Am I a mirror or a window?  Do I reflect values or reveal them?  Am I opaque or translucent glass?  Is my life stained with the magnificent colors of God's touches or filled in with more and more chunks of dulled or muted, blackened or smudged – ill-shaped light-resistant challenges to God's voice?"
~Reflection by Sister Roberta Bailey, OSB, Prioress
First Reading:  Isaiah 50: 4-7  Second Reading: Philippians 2: 6-11
Gospel: The Passion According Luke 22:14—23:56
Gospel for Blessing of Palms Luke 19:28-40
Continue Reading