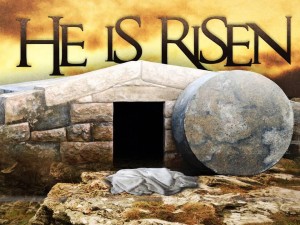 Welcome to the Second Sunday of Easter.  Notice it's "of", not "after" .. because, you know this, Easter's not a single day, or even an octave but a season of 50 days.
There's no question that we know how to do Easter as an even: the question is … How are we at Easter as a way of life?
The great Easter truth we celebrate is not that we are going to live anew after death, but, by the power of Jesus' resurrection we are new here and now!
"Here and now" – that's easier said than done. If it's any consolation, the first Christians: those who had the direct experience of our risen Lord don't seem to have been much better at it than we are.  During the Easter season we'll be reading a series of "post – resurrection" stories: the women at the tomb who seemed to have forgotten the "punchline": that Jesus told them he would rise after three days. It took the angels to remind them of that rather important detail. And then they ran back to tell the disciples, but, the men didn't believe them!  And, Mary in the garden?  She thought Jesus was the gardener
Imagine today's Gospel scene.  It's a week later.  Without warning, Jesus is in their midst – no time to run and hide under the table.  He's THERE.  Someone's first reaction was probably, who left that door open?  Immediately, Jesus "breathed on them".
Some things we just can't see. But we know they're there anyway. Like the air when a gentle breeze caresses our cheek.  God's love is sort of like the air, isn't it? It fills us up –  even though we can't see it – we can feel it in our hearts.  When Jesus breathed on them, Thomas who had missed Jesus' first visit and wants to see Jesus with his very own eyes, expresses his belief. But Jesus reminds him of something very important.   Sometimes we just have to believe in things that we can't see. We have a special name for that. We call it "faith."
You may recall the words of several hymns that refer to the spirit breath of God: "Be our breath," "fall afresh on me," "whose breath is seed outpoured –  calling all things to birth," "with your breath melt the frozen, warm the chill,"        One of my favorite Marian hymns often heard at Christmas, is sung by Amy Grant, entitled "Breath of Heaven.  It's the story of Mary's pondering the workings of the Incarnational Spirit within her.  Mary's prayer becomes mine: "Breath of heaven, Hold me together, Be forever near me, Breath of heaven – Be with me now, lighten my darkness, Pour over me your holiness, for you are holy, breath of heaven."
It has become for me a prayer: to be filled with the breath of God … And, that's what Easter as a way of life is all about. And it's a way of life we live one day at a time: one step at a time — trusting that even if we take a mis-step, we never journey so far from God that the life-giving breath of that Spirit is beyond our reach: even when that seems impossible to believe.
That's the lesson we learn from Thomas who has gone down in history as "doubting Thomas" because he refused to accept the testimony of others, but demanded his own experience.  He has borne the brunt of almost two millennia of bad press because of His skepticism about the resurrection and Jesus' appearance to the other disciples.  Yet, what did Thomas ask for that the others had not received?  They had seen Jesus. They had maybe had a chance to touch His wounds.  Why is Thomas ridiculed for his insistence that he see for himself?
I'm a little intrigued, actually, about how quick we are to make Thomas the poster child for faithless doubt. As a matter of fact, the rest of the bunch didn't do any better.  Remember:  the women at the tomb, the men who didn't believe the women's story, Peter who runs back to see for himself …. and here are the "faithful" disciples, after the appearance of Jesus: still locked in the upper room.
Think about it:  why did Thomas come back at all. Whatever had taken him away from the community, he came back. And it was in the midst of the community that Jesus came to him, and without so much as a confession or absolution, offered him what he needed to believe: "Touch, me Thomas. Do not be faithless, but believing."
One of Thomas' great virtues was that he absolutely refused to say that he understood what he did not understand, or that he believed what he did not believe. There was an uncompromising honesty about him: he would never still his doubts by pretending they did not exist.
But, he refused to surrender to the fear, too, which kept the other disciples shut up in that locked room. He ventured out and then had the courage to come back – to face a community which had had an experience that he had not shared.  At first he insisted on his own experience of God.   Jesus knew what he needed – He extended his hand to him – not a hand out; but a hand up, the nudge Thomas' needed to bolster his faith "my Lord and my God."  This is our challenge, and our privilege, to figure out what people need –  to offer the comfort, security and peace that will bolster their faith in a loving God.  This, too, is the challenge the Good Shepherd extends to us on Divine Mercy Sunday: to lead people to green pastures, where, surely goodness and kindness and mercy may follow them all the days of their lives."
With Thomas, and all whose faith wavers:  we pray, "Breathe on me breath of God, until my heart is pure. Until with you, my will and Yours are one – not my will but yours be done."
~ Reflection by Prioress, S. Roberta Bailey, OSB
Continue Reading