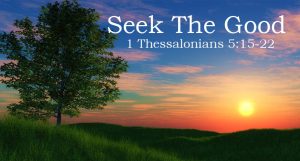 In our country, in the whole world, today there is an overwhelming flood of news and information that can wash us away if we are not careful. Unfortunately, much of it is commentary disguised as factual news which can mislead well-intentioned people.  With all this "virus" talk inundating us, it is easy to become overly skeptical of anything we hear or simply become deaf to it – tune it out and live in a news-free bubble.
The Gospel readings for these middle three weeks of Lent: last week the Samaritan woman, today the curing of the blind man, And next week the raising of Lazarus, are proclaimed every year at the liturgies that feature Scrutinies for those in RCIA.  They tell of a Jesus who offers us new life in him.  These are stories of a Savior who offers us living water, dispels the darkness of our blindness, and conquers the power of death.  They are not simply the plot and climax of good stories.  They tell the real truth.  This isn't simply factual news.  It is the GOOD news.  Jesus was and is real and the fact that he can heal us should be undisputed.  Too many, however, too often live lives of anxiety, desperation and despair, seemingly unaware that Jesus wants to help us bear our burdens
This year with the public celebration of Mass suspended, the RCIA tradition of gathering of all the catechumens at diocesan cathedrals is prohibited.  But the symbolism is not lost.  We can join in solidarity –  in prayer and sacrificial deprivation; in the challenges of social distancing and quarantine …  we give witness to an awareness of our responsibility to care for one another.
Tomorrow, March 22, has been designated a worldwide day of solidarity and prayer especially for all those who are directly affected by the pandemic.  I invite you tomorrow at 4:30 p.m. to unite yourself with the community for this intention.  Stop whatever you are doing and turn yourself to prayer for all those who lives are impacted by Coronavirus (COVID-19).  Maybe you'll form a group that prays the Rosary at the Mary shrine – take time to commune with God in nature – recollect yourself in private – or gather in quiet prayer in the chapel.
Create your own litany.  Call to mind care-takers, emergency workers, medical personnel… those who have the seemingly endless ministry of burying the dead … those who keep death-watch for loved ones they are prohibited from seeing because of fear of infection; pray for enlightenment for those who are frustrated because in their mental state they cannot recognize the seriousness of the situation – and for those who are burdened with an already existing anxiety disorder which is only compounded by 24/7 dire news – pray for those who are isolated and lonely, secluded in small spaces; pray in gratitude for those who check-in by phone with persons who live alone; pray for those who are called to make decisions, often unpopular, for those under their care and persons who make poor decisions seemingly oblivious to the ripple effect of their choices; pray for those whose theme song is "I am special" – and pray you never portray that attitude – projecting the image: "I don't have to follow the guidelines – I don't have to do what "they" tell me – I am the exception, I have God's special protection.  Remember those who suffer out of love for others what to them is unnecessary self-isolation and social distancing, the frequent hand-washing, hydrating every 15 minutes and seeing every room populated with hand-sanitizer.  Unusual circumstances call for unusual (some would say heroic) responses.
Pray for all of us, pray for yourself – that we may be patient and fore-bearing with the situation and with each other.  May we be graciously cooperative team players with an intact sense of humor.  Strive to live up to the ideals Benedict proposes: pursue what you consider better for the other; be the first to show respect to the other, be patient with each other, earnestly compete in obedience (even when it goes against the grain) – in all circumstances, may we prefer nothing whatever to the love of Christ.    That together we may know Benedict's promise of life in abundance. (RB 72).  But, as S. Julia, Benedictine from Tulsa, says: "There is no precedent for us to follow.  For Benedictines, so mindful of tradition, that is a lot to try to process!"
~Sister Roberta Bailey, OSB, Prioress
First Reading   1 Samuel 16:1b,6-7,10-13a              Second Reading  Ephesians 5:8-14
Gospel Reading        John 9:1-41 (shorter form: John 9:1,6-9,13-17,34-38)