Friendships can grow apart unless…..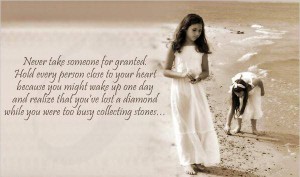 Reading about John the Baptist reminded me of the evening, long ago during the liturgical transition, when we were using "purple pages" for prayer services.  Liturgists often provided a focal visual in the chapel.  For Vespers, I had designed a desert area, low on the floor, with sand (on a sheet thank goodness!) and rocks and cactus plants.  The display included a sign (not very large) that read, in the words of the entrance hymn, "What did you go out to see."   When our elderly, arthritic Sister Annunciata came into the chapel, Sister Anna Marie (her peer) was already seated.  She watched as Sister Annunciata inched forward step by step and bent down until she could read the sign.  What happened next set all of us laughing, Sister Anna Marie said aloud:  "What did you go out to see?"
Luke's Gospel quotes the prophet Isaiah, describing the road we must travel throughout Advent (and our whole lives) in order to see the signs of the times and reach the One foretold: our Emmanuel.
Like Mary and Joseph we must travel through valleys, between hills and over mountains in order to be counted.  We weather life's troubles, storms of despair and disappointment, look out over the vista from the joyful mountain peaks of our lives to view the beauty God has laid out for us.
Like the Magi we bring gold, incense and myrrh for our Infant King – the gold of charitable deeds, our incense arising from prayerful hearts, minds and voices; and the myrrh of illnesses, infirmities and troubles to unite with the redemptive sufferings of Jesus.
Our community stationery proclaims: we are "touching lives through prayer and service." But, without deliberate attention, daily practices can become pro forma, only a formality repeated by heart, a mindless routine UNLESS we are continually in touch with the workings of God within through a rich prayer life – faithful to the practices of lectio and meditation, Eucharist, private and communal prayer – not simply seasonal: Advent, Lent and annual retreat …  but daily.   It may be helpful to make a pie chart of your 24-hour day … what percentage do you give to keeping company with God.  We may be tempted to say "all my work is a prayer."  That can be true if you start and end the day with the Sign of the Cross.  But, friendships can drift unless we do the work of keeping them alive. We need a jolt of spiritual energy at intervals during the day.  We want to guard against making a sham of people's trust that we are a prayerful people.  Benedict knew this when he laid out times for gathering for Divine Office, times to read and study, times for rest, manual labor, eating, conversation and quiet.  Today we are personally responsible for what we do with much of our time.   Remember, what S. Bernie quoted from CALL to LIFE: we listen DAILY to God's call and respond with good zeal."   Group meditation for us is a practice of the past.  But, a strong community can count on the group, assured that each individual member has taken time each day to reflect on the Word, and be with the Word, and discern its significance in her own life as well as power and push of the Word in the life of the community.  That's how we are able to grow in the ability to come to consensus, refine relational skills, and nurture the gifts of mutual forbearance and forgiveness…   in reciprocated love and respect.  It takes dedication, determination and perseverance not to be the bad apple in the barrel.
On the road to Bethlehem, we will meet construction along the way, or be the one under construction.   In the Gospel last week, Jesus warned us to be alert, watching for God's unexpected activity in our lives.  In this weekend's readings, we see sign we dread: Road Construction Ahead.  We mutter: "Didn't they just finish working on this road?" We get impatient when we see road construction signs, because they speak to us more of inconvenience, hassles, and delays, rather than the benefits that are hidden in the distant future.  The sign reminds us: Proceed with Caution.
We can hear John the Baptist shouting with the powerful words of the prophet Isaiah, almost like a highway foreman, "Prepare the way of the Lord! Make that path straight! Fill that valley! Get that mountain outta here! What happened over there? It's all crooked! Make it straight! Smooth out that rough place! We gotta show everyone the salvation of God. Get busy!"  Time is running out – the day of the Lord is near!  In three short weeks Christmas will be here – our Emmanuel will appear!
                                                                                                                 Reflection by S. Roberta Bailey, OSB, Prioress