I don't mean to slight or undervalue the testimony of John the Baptist that was just read (in John's Gospel).  After all, he's "The voice of one crying out in the desert."  He was the star of the show last week with his cry: "Make ready the way of the Lord!"  This week let's turn our attention to the admonitions of St. Paul – in our second reading – in his Letter to the people of Thessalonica about how to prepare the way of the Lord.  Paul says: "Rejoice always.  Pray without ceasing!  In all circumstances!"  IMPOSSIBLE!   You say.  Always?  Without ceasing?  In all circumstances?  Who can possibly do that in today's world with all the violence, discord, illness and death?  But Paul has an answer for us.  "THIS IS THE WILL OF GOD.  DO NOT QUENCH THE SPIRIT.  Test everything; retain what is good.  Refrain from every kind of evil…..  the One who calls you is faithful, and will accomplish it."
With his solicitous instructions, Paul sounds like "helicopter parents" as they drop their children at a new neighbor's: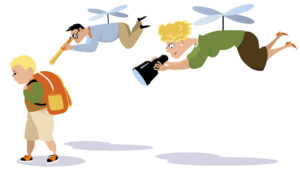 "Remember what I've told you: Always be respectful. Listen closely.  Put away the toys you play with.  And, if you forget everything else, remember: 'please' and 'thank you' go a long way.  Call me if you need anything."  Most times the kids know the spiel by heart, "Okay, Okay!  See yah Mom."  Many of us may have memorized Paul's exhortations.  Maybe our ears will perk up this round when we hear tomorrow's reading proclaimed.
You may be surprised, if you consciously look for good, at all the positive things, all the surprises that God sends you each day – making Paul's words ring true when he says: "The one who is faithful, will accomplish it." In the 1950s the number one book on the New York best sellers list was Norman Vincent Peale's: The Power of Positive Thinking – for 48 weeks – that's almost a full year.
Peale said he wrote the book "with the sole objective of helping the reader achieve a happy, satisfying, and worthwhile life."  His techniques were simple and, the best part, if you are serious about it, they were achievable.  For example:
Believe in yourself and in everything you do
Break the worry habit and achieve a relaxed life
Improve your personal relationships
Be kind to yourself
Bet you're thinking, that sounds like advice of someone I know?  Like maybe John the Baptist, the Proverbs, my mother or grandmother… and certainly Jesus!
Perhaps one of the most reassuring statements in history is "Do not be afraid, for I am with you."  I have not examined my Bible to prove it, but "Siri" tells me that the phrase "Do not be afraid" can be found 365 times in the Old and New Testament."  Think about it: that's one time per day, for a full year that the expression is recorded in Scripture.  Goodness only knows how many times in the short span of our own lives someone has said words meaning: "I'll be with you; you don't need to be afraid."
Simple reminders like those given to a child before a first piano recital, or acting in play, or the first day at a new school.  Or right here in this house, assurances to the first-time table reader, or Lector, or cantor.  Sometimes the advice is silly, at other times, simplistic.  But, if we let it soak in, it works.  "Keep your eyes on me, I'll be the one smiling."  Sometimes it's hard to believe …  like the person who says: "This dog doesn't bite – I'll hold him.  "Don't be afraid!"  This one is from a movie but could have been heard in our back yard.  Julia Roberts and Richard Gere are pushing their way through a tall grass short-cut.  She says: "Watch out for snakes."  He: "I don't like snakes."  She: "Then walk nice; snakes won't get you."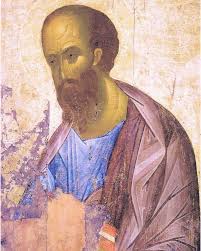 Now – here it is the 3rd week in Advent – rose candles and vestments to remind us: "Be joyful!"  The church offers us once again for our consideration – Paul's admonitions as we await the celebration of Jesus' birth and His final coming.  Paul is insistent that Christ will come again!  Pandemics, death, pain, suffering, turmoil, sadness do not get the last word.  We await a Savior who has conquered Death.  This period of waiting, though, is not a time to twiddle our thumbs.  The words, the phrasing that Paul uses are all active verbs (nothing passive about it).  Rejoice!  Pray!  Give thanks!  Test EVERYTHING.  Retain!  Refrain!  Model what is good and peaceful!  Allow God's Spirit to shine in your midst."  And why?  Because: "The God of peace is really at work among us."
~Reflection by Sister Roberta Bailey, OSB, Prioress
First Reading: Isaiah 61:1-2a,10-11             Second Reading  1 Thessalonians 5:16-24
Gospel John 1:6-8, 19-28