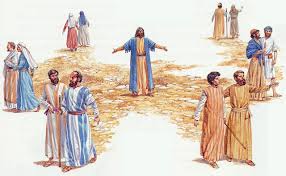 We've just heard another version of a "sending out" gospel story.  On Wednesday, Thursday and Friday we heard the event from Matthew's memory.  Here from Mark we hear that Jesus sent out THE twelve.  Without an understanding of Scripture and the difference between APOSTLE and DISCIPLE it could be difficult to comprehend just who it was that Jesus sent out.  This little nugget will help:  disciples are called; apostles are sent.  So it was the 12 apostles that Jesus sent out unimpeded with totes, snacks and carry-on luggage.  Some scholars will tell you there were 86 DISCIPLES – the original 12 who were called by Jesus and whom we know by name plus the 72 that were later sent out by Jesus to spread the good news.  All apostles were once disciples, but not all disciples became apostles.  Disciples are learners; "apostle" comes from the Greek word for ambassador or messenger.   The number twelve is symbolic of the twelve tribes of Israel. Thus, showing that Jesus' mission is a continuation of God's to and among the Israelites.
Jesus' instructions to these apostles are very specific. There is the idea here is that they were to go as they were, without making any special preparations for their travels.  There is also the idea here of urgency. Jesus wants them to go now!   He repeats that their mission is to preach and to share his authority to heal and to drive out demons. He sends them in pairs, establishing that his mission is a communal endeavor. He instructs them to travel lightly, without the customary food, money, or an extra set of clothes. They will be dependent on others' hospitality, just as Jesus depended on others to provide for his needs.  Remember, his words: "foxes have their dens but the Son of Man has no place to lay his head."
[Jesus sent them out two by two …. I guess because this is the summer feast of our holy founder Benedict,]     The two-by-two concept reminds me of Benedict's description of "good monks" – cenobites – who of their own free will choose to belong to a monastery … living with others of similar mind and attitude … under a Rule and a superior.
It seems pretty obvious, too, that this Gospel story prompted Benedict's directives to monks on a journey: Chapter 51 "Monastics on a Short Journey" should not presume to eat outside, even if they receive a pressing invitation…" thus emphasizing our dependence, and interdependence on community.
Chapter 55 on clothing of monastics … this one may cause the listener to smile: "monastics going on a journey should get underclothing from the wardrobe.  On their return they are to wash it and give it back."   Forget the jockey or boxer shorts, or for the ladies the panties and bra kind of under clothing … Benedict's monks probably wore next to nothing under their monastic tunics.  The clothing from the wardrobe may well have been a pair of trousers and a coarse undershirt.  Benedict made provision also for a better than daily quality of tunic, we'd say habit and, as needed some better foot wear (sandals for summer; lined boots for winter).
Perhaps because Benedict came from a wealthy or noble class family, he retained his concern that his monks not look shabby on a journey.  He calls the superior to take notice of the fit and cut of the members' garments.   Ever-concerned about the vice of murmuring, he reminds the members not to complain about the color or coarseness of their clothing, but to use what is available in the vicinity at a reasonable cost – as long as the measurements of their garments are "not too short but fitted to the wearer."
So, the TWELVE went out two by two and what did they do?  It wasn't for a leisurely afternoon stroll.   Two by two, they sought hospitality from strangers, they cast out demons and they anointed many with oil.  Two by two is still the best method today. When two people go out to share the Gospel together (eg Jehovah's witnesses and other door-to-door, or street corner preachers) it provides companionship, encouragement and they can pray for each other – it makes the job easier especially for shy, reticent, introverted evangelizers.
Probably, most of us have never seen a genuinely possessed person as described in the Scriptures.  But, in our own time, there are many other kinds of demons which can control people, where people become the slaves of these things.   For instance, there is the demon of nicotine, the demon of alcohol, gambling, promiscuous sex, or materialism and consumerism as well as the demon of gossip or murmuring or any other activity which somehow can take control of our lives. All of these, or any one of them, can reduce our freedom and turn us into slaves of the particular vice.
When we are not enslaved, when we are free, we can do what Jesus wants us to, what the apostles did:  "anoint many."  When we are free of busyness and busy-body-ness we can more liberally anoint others through our ministry of hospitality … anointing each other – and our guests – with the oil of kindness, compassion, sharing of joy and mutual respect.
Let there be no doubt: it takes a constant effort to practice the self-disciplines that ensure our freedom as children of God:  …  the disciplines of custody of the eyes, custody of the ears, custody of the tongue and curbing our curiosity to be the "eyes and ears" of the community.
Like the first apostles and disciples, we are not sent alone. Jesus has given us the companionship of the Holy Spirit and the community of the Church, which strengthens our life of discipleship. And more than that, we are blessed with the community of our Benedictine family.  The companionship we share can help free us from worries and anxieties in our heads which can paralyze us and prevent us from living rich and enriching lives. It would be worth reflecting today on how free our lives are and where our real wealth is to be found.
                                                                                                              Sister Roberta Bailey, OSB