Reflection By Sister Roberta Bailey, OSB, Prioress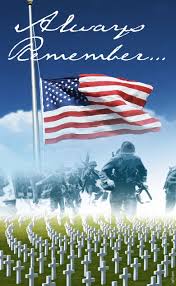 Memorial Day is an American holiday honoring the men and women who died while serving in the U.S. military.  It was originally called Decoration Day – a day to honor deceased soldiers by decorating their graves with flowers, flags and wreaths.  Although Memorial Day became its official title in the 1880s, the holiday wouldn't legally be called Memorial Day until 1967 and its designation as a federal holiday came in 1971.
Enough history trivia!  The holiday prompts us to take some time to ponder the toll that war and violence have taken, and continues to take, on our society.  And lest that image overwhelm us we are moved to "raise our eyes to heaven; bow our heads in prayer" – hard to do at the same time.
In the Gospel we heard Jesus' promise: "Peace I leave you, my peace I give you. … Do not let your hearts be troubled or afraid …You heard me tell you…".  I suspect that one of Benedict's favorite words must have been PAX, PEACE – The kind of peace Jesus gives, not as the world gives.  But, Benedict doesn't promote an attitude of "peace at any cost."  This is simply a false peace – smooth the surface of the waters and there's churning beneath.  Agreeing with another simply to avoid conflict too often comes back to haunt us in the form of inner turmoil, headaches and stomach ailments and a long history of unrestful emotions.
The guidelines Benedict offers to his followers may involve great personal cost.  He seems to have an attitude of "nip it in the bud."  Confronting isn't easy for most folks.  Being the first to apologize can go against the grain.  And, gracefully accepting another's expression of regret is a humbling exchange.  Benedict encourages us at the outset of our Benedictine journey: "Let peace be your quest and aim."  [RB Prologue 17]  It's difficult, some days more so than others.  We are a flawed people.  We have weaknesses, limitations, distractions that burden us and can cause us to be defensive, resentful and irritable.  (Remind you of the older brother in the parable of the Prodigal?")
We know Benedict is right when he says that seeking peace is the way to heaven – heaven in the after-life and a little bit of heaven here on earth.  "If you wish to have true and eternal life, keep your tongue from evil and your lips from speaking deceit; turn from evil and do good; seek PEACE and pursue it."  Another translation says, "Seek peace and go after it."  And yet another says: "Chase peace and pursue it."  Doesn't that conjure up quite an image…   one that I imagine is depicted here in this drawing from What Do you Do With a Problem?  Can't you see us – peace leading the way … dashing out of the chapel, into the dining room, down the halls, out the door, into the neighborhoods, climbing God's holy mountain pursuing PEACE – never abandoning charity nor giving a false peace, peacefully performing whatever duties are entrusted to us and ensuring we have made peace before sundown.
Today, let us renew our commitment to make, to pursue PEACE so it is more than a concept that only we talk about.  Make a daily pledge to be people of peace, to be a peaceful people.  Make each day an echo of what Paul tells us in the Letter to the Corinthians "the old things have passed away; behold new things have come….  We have been reconciled through Christ and more than that, WE HAVE BEEN GIVEN A MINISTRY OF RECONCILATION."  Peace is up to you and me.  Do you mean it when you sing: "Let there be peace on earth; and, let it begin with me?"
Another way to think about peace is expressed in this Chinese proverb.  It shows us the progression of light within to peace in the world…
If there is light in the soul,
There will be beauty in the person.
If there is beauty in the person,
There will be harmony in the house.
If there is harmony in the house,
There will be order in the nation.
If there is order in the nation,
There will be peace in the world.
(Chinese proverb)