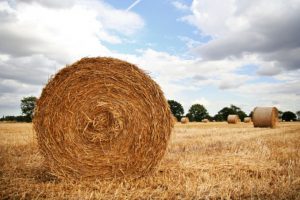 First Reading  Wisdom 12:13,16-19                    Second Reading  Romans 8:26-27
Gospel (short form)  Matthew 13:24-30
Jesus' parables aren't meant to test our human intelligence.  They are moments of grace to ply open our heart's willingness to surrender to, and be enveloped in, the always surprising generosity of God.
Here on our property, when we look out the window and behold the life cycle of the hay field or blueberry patch, we see first-hand in nature what Jesus is talking about.  He extends the lesson applying it to the human heart.  He reminds us here that there are folks whose hearts are like cement.  It does not matter how much or how often seed is poured on these souls.  Fertilize it, water it – nothing will cause those seeds to take root and sprout.  Listen to church and TV sermons 24/7, they remain unfazed.
Do you remember times you were like this …  not always … but a time or two when you just didn't want to hear what God might have to say?
In contrast to the hardened-soil person, the shallow-soil person is hyper-responsive to God's word—but only for a wee tiny time.  Like during a revival or summer retreat.  Don't be one of these temporary 'all in' folks gobbling up every word and reading every book suggested by the retreat director.  But, sometimes the seed eventually sinks in and bursts through the pavement.  And right away, birds or insects snatch the new growth and it never comes to fruition.  It can't survive the heat of the give and take of daily community life.
When were you like this?  Maybe in the novitiate … or the time in high school when the class made the senior retreat?  God was SO real to you … but God's voice grew more faint as the days went by?
Then, there is a third type of soil – a thorny type – so tightly entangled with "thorns" that their thorns have become their identity.  Jesus calls these thorns "the cares of the world and the deceitfulness of riches." Matthew says these people are caught up in anxiety and get choked on the lure of the riches of the world that tug and yank at their minds and hearts until the seed suffocates, rendering them spiritually barren.
When was this the case in your life?  Times when you were just too distracted to cultivate God's word …  when several days went by without a space for Lectio or healthy self-care – when "thorny" remarks and obstinate behavior was your default mode?  That's when God planted a general sense of dissatisfaction in the garden of your soul.
Oh, but how gratifying it must be to Jesus when He finds "good soil people" – when we share the time God has given us to meditate on the Word, let it penetrate and bear fruit – then we hold fast to the word making it our own.  Thus we grow more Christ-like over time by absorbing and practicing the precepts of Benedict.  Over the years, as the seeds continue to take root and blossom, the fruits and gifts of the Spirit flourish.  As one author describes Benedictine life: they fall down, and they get up … and fall down and they get up … as they ascend the ladder of humility.
We come not only to know, but to believe deep in our hearts that God can change hard, shallow, compromised patches of dirt into fertile garden soil.  As we read in Ezekiel: "And I will give you a new heart, and a new spirit I will put within you.  And I will remove the heart of stone and give you a heart of flesh."
Many of us have, or have had, gardens.  And all of us–whether we're gardeners with a green thumb, or thumbs with only a tinge of green, or only a "wishful" thumb – or a thumb that only knows how to operate a TV remote or a computer mouse — all of us know the principle of planting: when we put a seed in the ground, we expect a plant to appear …  some may even think it will sprout with a flower already on it J . We also know that not all seeds will produce full-grown plants. They just don't, for a variety of reason.
We don't have to ever have plowed fields for forty cents a day in order to know the different landscapes of which Jesus speaks. We know the beaten path of our own lives.   We've stumbled through the rocky patches of life.  We have been scratched and cut by the thorns of life.  But we have planted our roots deep in the sacred soil of life that feeds and grows us to become a harvest – whether it's a thirty, sixty or a hundredfold – who's counting?! – it's all a harvest!  Given the right conditions apple seeds do become apples.  Mango seeds become mangoes.  God's seeds become what we allow them to become.
Paraphrasing the words from Deuteronomy, we ask: "let the soil of my heart hear the words of Your mouth.  May Your instruction soak in like the rain and Your word permeate like the dew; like a gentle rain upon the grass and like a shower upon the crops."
~Reflection by Roberta Bailey, OSB, Prioress