Indulge me today – humor me …
I'd like to invite you to join me in game of Twister …  you probably know the game – has nothing to do with tornadoes and violent winds …  So look at your card …  Imagine it is a mat.  In Twister, if this were the real game, 2 players face each other on opposite sides of the mat.  I'll be the referee who calls out the directions.  Let's begin.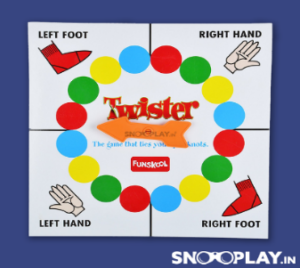 Visualize it: place your right hand on the yellow circle in the upper right hand quadrant of the "mat."  (They're labeled in case you're directionally-challenged.)
That's reserved for a quote from the Sunday's first reading.  The Prophet Ezekiel speaks: "I have appointed you as a guardian over your household.  You shall warn them for me, to dissuade them from their sinful ways.  If you do not try to turn them from their willful ways, I will hold you responsible." (Adapted Ezekiel 33:7-9)
Now, your left hand on the red circle in the lower left quadrant: St. Paul speaks to you who reside in the church of Rome.  "My Sisters (and Brothers) – I plead with you: owe nothing to anyone, except to love one another.  For the one who loves has fulfilled the law.  Love your neighbor in the same way you love yourself."   (Romans 13:8-10)
Now – visualize it – you'll understand why this game is called Twister.  Place your right foot on the green circle in the lower right quadrant …  and hear what Jesus says: "If your Sister offends you, go and have a conversation with her alone.  If she listens to you, you have won a friend for life….  I say to you: if the two of you agree and pray about anything, it shall be granted to you by my heavenly Father….  There am I in your midst."  (Matthew 18:15-20)
(Feeling like a pretzel?)  One more call: Bring your left foot onto the blue circle in that upper left Twister quadrant.  And, sing or pray the words of the Responsorial Psalm: "If today you hear God's voice, harden not your heart."
Tired of mental gymnastics?  So stand up and draw those Scriptural strands together.  Ponder: what did we hear?  From Psalm 95: "Harden not your heart if you hear this message."  What shall I take to heart?  In Ezekiel's message: "I (meaning each one of us), "am the guardian of this household."  St. Paul reminded us: "Owe nothing to anyone except to love one another."  St. Benedict in his rule for monastics passes on to us the same identical words of the advice Jesus gives us in the Gospel: "If your Sister offends you, go and have a confidential, prayerful conversation with her alone knowing that Jesus is there in your midst. "
In our day-to-day living, how do these Scriptures play out?
+ the responsibility lies with YOU … in YOUR heart
+ you can't "pass the buck" or assign motives or put it in someone else's agenda
+ you can't use email, Instagram, or a note at "her" door
+ neither can you "turn a blind eye" or pretend you didn't hear the barb, the uncharitable, inappropriate remark
+ our only debt, the only thing we owe each other, is LOVE.
When this is our quest and our aim, then, we can peacefully "play in the same sandbox."  In other words, with a clear conscience we can honestly claim (as we do in our philosophy statement: "we are Christ to one another; we seek form bonds of mutual love and respect and call forth the best in one another.  We freely and generously open our lives to others in hospitality and place ourselves in service to the larger community."
~Reflection by Sister Roberta Bailey, OSB, Prioress
First Reading:  Ezekiel 33:7-9                 Second Reading: Romans 13:8-10
Gospel Matthew 18:15-20