Here (in this Gospel) we see Jesus troubled with the knowledge of who is about to betray him.  It is more troubling when you realize that Jesus truly did know who would betray him.  We may say: "I know what she's thinking; I know why she did that."  But, we don't really – we're second-guessing or assigning a motive based on our own behavior."  Yet still knowing full well Judas' heart and what would happen when they stepped into the garden after supper – watch what Jesus does.  He announces the imminent betrayal, and then proceeds to feed the betrayer:  "When he had dipped the piece of bread, he gave it to Judas, son of Simon Iscariot."  With the flavor of the morsel still in his mouth, Judas leaves to do his dirty work.  The narrator adds, "… and it was night" – the deed is done under the cover of darkness.  In this dark moment Jesus says: "Now is the Son of Man glorified."  He speaks of being glorified and focuses on preparing his disciples for what is to come.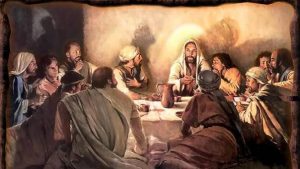 Not included in the text for tomorrow, but in John's Gospel, the conversation continues, with Peter asking, "Lord, where are you going?"  Jesus responds, "Where I am going you cannot follow me now, but you will follow afterward".  Peter argues, "Lord, why can't I follow you now?  I will lay down my life for you."  But Jesus knows before the sun comes up, that Peter – one of his closest companions – will deny him three times.  Yet his parting words to his disciples focus not on blame for their failures.  He assures them that although he will no longer be physically present with them, they will not be alone.  He reminds them of their need for community.  "Love one another," He counsels, "as I have loved you."
Seems to me this is what Benedict means in RB 72 …  "Show pure love to each other…. don't pursue self-interests… rather seek to anticipate what is better for someone else …. supporting each other with the greatest patience."
Jesus demonstrates the kind of love he preaches.  He shows no partiality.  He does the same for the one who laid his head on Jesus breast as he does for the disciples who will fail him miserably.  Jesus washes and feeds Judas who will betray him, Peter who will deny him, and all the rest who will fail to stand by him in his hour of greatest need.  The love that Jesus demonstrates is not based on any earned merit or reciprocity.  He asks only that we freely love others in the same way He loves us.
It could not be any clearer!  Jesus to telling us it's not by our knowledge of the church law, liturgical rites, the catechism, or even by our sense of morality, our ministerial service, attendance at funerals or obeying driver safety rules; not by my formation experience, nor by how I was brought up; it doesn't depend on how neat or clean we keep our personal spaces, our table manners,  or whether we practice an exercise routine.  Simply put: (as the hymn says) "They'll know we are Christians by our love."  We won't be tested, evaluated or judge by any measure other than this: Have our actions and interactions been loving – has our manner of living exuded love… at all times: not just when there are guests, or we are sporting a Benedictine Sisters logo shirt, or we think others are watching or that we may be overheard.
It comes down to a choice.  Like Judas, we've seen the evidence – we've witnessed Jesus' miracles in the Scriptures and in our own life-time.  Along with other Christ-followers we've read and pondered and puzzled over Jesus radical teachings.  We've been there in spirit with the Marys who sat at the feet of Jesus absorbing his words.  We've stumbled and been raised up by the same Lord whose teaching we chose to ignore, disregard or just never delved into to.  We've followed others' lead when we knew full well the ugliness of gossip, tittle-tattle and unacceptable language or jokes.  We forgot Jesus and our guardian angels were in the same room with us … and heard and saw it all.  We may have snubbed the prompting of the Spirit.  But, that still small voice will keep pestering us until we pay heed.  [Persistence must be one of the Spirit's major virtues…]
As Benedict says in the Prologue, "The labor of obedience will bring you back to God from whom you have drifted."  Ever noticed how a stick thrown into a body of water seems to flounder until it is grabbed by the drift forcing it in a particular direction.  It just can't continue for very long going in circles or struggling against the current.  That's you and me …  searching for a direction …  striving to give up self-will …  awed by all we've witnessed of God's goodness.  Now, roused from sleep and equipped with good zeal and a determination to prefer nothing whatever to Christ, we are ready – we're perked up and prepared to heed Benedict's first word:  LISTEN!
At Noon Prayer earlier this week God spoke to us from long before Jesus walked this earth – long before he endured disappointment and betrayal and death.  To this day God promises:  "I will never take back my love; my faithfulness will not fail.  I will never break my covenant or go back on my promise."
~Reflection by Sister Roberta Bailey, OSB, Prioress
5th Sunday of Easter (May 19, 2019)
First Reading Acts 14: 21-27 Second Reading   Revelation 21:1-5a
Gospel John 13: 31-33a, 34-15