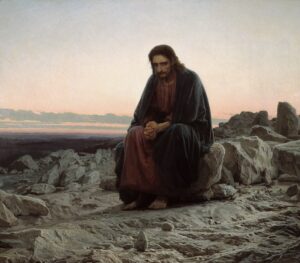 In the liturgical cycle of readings, this Gospel from Mark was originally only two verses – later the church added two more – but it is still one of the shortest Sunday readings.  It tells us only that, immediately after His baptism, Jesus was led into the desert by the Spirit to be tempted by the devil, for 40 days.  You'll notice that Mark, unlike Luke and Matthew, does not outline for us the three temptations of Jesus.  He simply lets us know that the conflict between Jesus and Satan only begins in the desert.  The ultimate test will be in Jesus' final hours on the cross.
We are now four days into our Lenten journey of 40 days.  We are reminded of Elijah who journeyed in a desert 40 days and nights, making his way to Mount Horeb as well as the Israelites who wandered in a desert for 40 years.  Benedict knew that deserts are an unavoidable part of life.  We have to pass through them – not get stuck in them. In the desert, we soon find out we are too weak to go it alone.  According to St. John Chrysostom: "The Spirit drags Jesus into the desert, since he wanted to draw the devil there – and Jesus gave occasion to him not only on account of his hunger but also on account of the place: for then most especially does the devil attack when he sees people isolated and by themselves."  No wonder Benedict urges us not to be isolated in our Lenten journey: "the entire community during these days of Lent (together strives) to keep the manner of life most pure."
We've heard the expression "practice makes perfect" so often that the meaning may have lost its impact on us.  Each year at the beginning of Lent we may feel like that skater or a musician who's been laid up for a year without practice.  As Benedict says in Chapter 49 of the Rule, during Lent we are called to be the kind of person we should be every day.  Lent gives us a jump-start of courage to pick up the practices that will support the values we profess and hold dear.  The biggest temptation most of us have to face it to "give up" because we stumble.  What would you think if you dialed a wrong number and got this recording: I'm not available right now, but I do thank you for caring enough to call me."  (How sweet!)  But, it continues: "I am making some changes in my life.  Please leave a message after the beep.  If I do not return your call, you are one of the changes."
Thomas à Kempis, in the IMITATION OF CHRIST, says, "Often we do not know what we can stand, but temptation shows us what we are.  Above all, we must be especially alert against the beginnings of temptation, for the enemy is more easily conquered if refused admittance to the mind and is met beyond the threshold when it knocks…. A person, indeed, is not worthy of the sublime contemplation of God who has not been tried by some tribulation for the sake of God.  For temptation is usually the sign preceding the consolation that is to follow."
Lent is God's call to us to make God and Godly values the center of our life.  It is a time for honesty and stability.  A time for us to be close to God.  The desert of life, of Lent – like any desert – can be a vast expanse of sand and rock, punctuated by ragged hills, blistered by a relentless sun, a barren land in which little grows.  But, depending on our outlook, the space can be filled with mysterious unexpected experiences.  It can be a place not only of testing but of beauty where faith can grow.  Mirages give us false hope.  A welcome pool of water or a dripping cactus can reveal to us, in the blink of an eye, a reflection of what we really look like.  During Lent we are simply being asked to dare to be convinced that this is a wonderful opportunity to rediscover our true self-worth and the wonder of being the child of a loving God.  We are challenged not to focus on the storm clouds of COVID restrictions, chronic health conditions, what we DON'T have.  We do well to focus on all that we DO have: our faithful supporters, the friends who DO make contact, the companions who DO treat us gently, our God who, even with all the concerns and pleas that are raised for attention, remembers ME and loves ME with unfailing love.
Personal deserts are unavoidable, they're part of life.  We need Christ and we need the ministry of others.  If for nothing else than to teach lessons of dependence.  We'll never be as strong or wise as we'd like.  We need the grace of God in Christ.  We need the ministry of each other and all of God's people to strengthen us by their prayerful support and good example that we, too, might take up our crosses and follow Jesus.  We pray that like that voice message said (I mentioned earlier), we do take the opportunity of Lent to make changes on our lives.  But unlike that voice message, may we never hear God's voice and choose not to return the call.
Next Sunday we will be commemorating the 132nd anniversary of the founding of Holy Name Convent from Pittsburgh, PA.  You can look for a snippet of our history as the reflection.  God bless our founding Sisters!  Their first home was "on loan"  space in a family home in San Antonio which is the township adjacent to Saint Leo, home of the current monastery.  The weather bureau archives reveal that it was 80 degrees in San Antonio, FL on the day of their arrive, February 28, 1889.  Stay tuned for the "rest of the story" next week.  
~Sister Roberta Bailey, OSB

Genesis 9:8-15   1 Peter 3:18-22   Mark 1:12-15