(Gospel) Sound familiar?  We've heard portions of it now three days in a row …  The Church wants to be sure we get the message: "Let not your hearts be troubled."  This conversation between Jesus and his disciples (and with us) is a profoundly comforting message in the face of pandemic days – days of fear of contagion and possible death.  But, it is more than that – it has everything to do with our lives at any time – not only the here and now.
To put the setting into context … the scene is Jesus' last meal with his special friends on the eve before His death.  He has washed the disciples' feet and explained the meaning of the gesture.  He has foretold his betrayal by one among them, and that one has slipped out into the night.  Jesus has shared that he will be with them only a little while longer.  He is going and they cannot come.  He has also foretold Peter's imminent denial.
No wonder they are troubled.  Their beloved teacher has announced that He is leaving them and one of their own has turned against them.  And Peter, who has served as their leader and spokesperson, is about to falter in his loyalty.  The ground is shifting beneath their feet.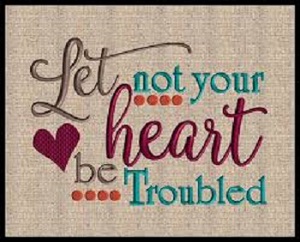 Jesus responds to their anxiety: "Don't let your hearts be troubled.  Believe in God, believe also in me."  He assures them that he is not abandoning them.  The good news is he is going to
His Father's house which is also their destination.  Because there are many dwellings in his Father's house, He's going to prepare a place for them, so that they will be with him and dwell with him.
Then, poor literal Thomas – he wants the GPS route to this place Jesus is going.  (Jesus, knowing Thomas, could have seen this coming.)  He reminds all of them (and us): "I am the way, and the truth, and the life.  No one comes to the Father except through me."
This is a promise.  Assuring us there is no need to panic or to look for a secret map out of the land of COVID or to expect a view "from the balcony" for vision of what the new "normal" will be.  "If you know me, you will know my Father."  And, "From now on, you do know him and have seen him."
Then it's Philip's turn.  He is not quite convinced.  "Lord, show us the Father, and we will be satisfied."  Jesus' sounds a bit exasperated: "Philip, have I been with you all this time and you still do not know me?  Whoever has seen me has seen the Father."
This was the whole of Jesus' mission – his life's work.  For the past three years He had labored to reveal who God is.  If we want to know who God is, we need look no further than Jesus.  All the words that Jesus has spoken come from God and show us who God is.
Jesus' message in this Gospel passage has everything to do with our life here and now.  "Very truly I tell you, the one who believes in me will also do the works that I do and, in fact, will do greater works than these because I am going to the Father.  I will do whatever you ask in my name, so that the Father may be glorified in the Son.  If in my name you ask me for anything, I will do it."
This is where Jesus' promise becomes a little hard to swallow.  Greater works than healing the blind and raising the dead?  And you will do whatever we ask in your name?  How can that be true?
Perhaps the problem is that in hearing these promises, we expect to do these greater works in the same way that Jesus did them.  What Jesus is promising is that He will be with us through the power of the Spirit, to work in and through us to accomplish HIS purposes in the world.  He is not promising that this will necessarily happen in visible, spectacular ways.  He's saying that wherever there is healing, reconciliation, life-giving deeds –  this is the work of God – Jesus' presence in our midst.
Jesus makes known to us the heart of God, and he has shared and entrusted His sacred mission of "making God known" to all in "our realm of influence."
"The Lord is trustworthy in all His works.  Upright is the word of the Lord!   See, the eyes of the Lord are upon those who hope in his kindness." (Psalm 33 adapted)  "You are a chosen race, a royal people, a holy nation, a people of God's own.  (Second Reading 1 Peter 2: 9)
~Reflection by Sister Roberta Bailey, OSB, Prioress
First Reading: Acts 6:1-7                Second Reading 1 Peter 2:4-9
Gospel John 14:1-12