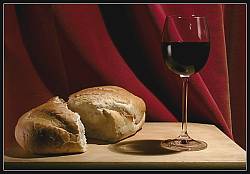 Jesus says: "I am the bread of life."  A familiar saying is: "Bread is the staff of life."  Interesting isn't it that both describe Jesus who is our Staff.    In Scripture the word "bread" is used too for both actual loaves of bread and for any type nourishing food – sometimes to describe a whole meal.
In our community, hospitality very often includes food for the soul at community prayer; and, food for the body at a meal.  Remember the two disciples on their way to Emmaus?  It was in the "breaking of bread" that they suddenly were enlightened.  They thought they had been talking with a stranger but at their meal their eyes were opened.
This weekend, as we celebrate the solemnity of the Body and Blood of Christ, is a good time to dwell on the question of how well we do hospitality.  We know we want to be hospitable, welcoming.  But, more than that, how is God asking us to be "bread" for others?  Our corporate commitment says it succinctly.  We talk about that statement and acknowledge this commitment often … today is a good opportunity to examine it one phrase at a time.
It begins: "In an effort" …  it's an on-going process, never fully achieved, always open to refinement in expression.
"To address" … be aware, to give attention to, to make others aware
"Contemporary needs" … to stay contemporary in this on-going mission requires us to follow the news and trends that are calling for the ointment of our care
"Local needs" … this is a real challenge – how can we keep our finger on the pulse of local needs?  We can do our part locally to help relieve world-wide problems like hunger and homelessness through our Thanksgiving meal, assistance through Daystar, feeding Habitat workers and in July we have an opportunity to sponsor a meal through "Love One Another.".  A good example of keeping our finger on the pulse of local needs, happened (I believe) this past week.  You saw the article in the paper … having a Sister in the right place enabled us to become instrumental in raising a red flag to the situation of the impending closure of the Pasco Food Bank.   Certainly a critical local need!
Our statement goes on – "We, the Benedictine Sisters of FL, commit ourselves" … that's all and each of us … A little story applies here – you've heard it I'm sure:
There was an important job to be done and Everybody was sure that Somebody would do it. Anybody could have done it, but Nobody did it. Somebody got angry about that because it was Everybody's job. Everybody thought that Anybody could do it, but Nobody realized that Everybody wouldn't do it. It ended up that Everybody blamed Somebody when Nobody did what Anybody could have done.
We commit "our resources" … that is so encompassing did you notice in this morning's reading from Tobit … Raphael's admonition to the father and son: "Prayer and fasting are good, but better than either is almsgiving."  Our alms don't mean just money … It goes without saying it means our prayers …  It's also our grounds, our facility, even our personal space, our empathy, our understanding, our talents, our willingness to do the grunt of using a broom, mop, hoe or dishrag.
And, why do we commit ourselves and our resources?  "…to respond with the compassion of Christ."  Compassion is more than sympathy, empathy, care and concern. But we can't commit to something we have not experienced, can we?   We can only know the depth of meaning of the concept of compassion if we know we have been the recipient of compassion.  Jesus' gift of Himself in the Eucharist is the ultimate expression of compassion …  uniting Himself to us with passionate Love.
Then, we say  … "to respond to physical, spiritual, social and emotional hungers .. in other words, to the whole person.
Each of us is called to be the Body and Blood of Christ; to be spiritual nourishment for others.  That's right Jesus said we are to be wine, that is, His blood, for others.  Like I said last week, that's the price, the cost of our commitment to place our lives and our gifts at the service of others.  As such we, like Jesus in the Eucharist, must be blessed, broken and shared.  In the words of Pope Francis, Jesus' solution to the people's need for a meal was: "YOU give them something to eat."   There is the challenge: (Francis says) "knowing how to place what we have at God's disposal: our humble abilities, because it is only in the sharing, in the giving of them, that our lives will bear fruit."
For Thomas Aquinas, the ultimate experience of ecstasy comes through the Eucharist, which draws us out of ourselves and joins us to Christ.  He describes this experience as "inebriation" saying that cup is "the gift of divine love, which inebriates, since one who is drunk is not in himself.  For we are made to be in ecstasy … When Christiana grasp the significance of the Eucharist as Christ's sacrificial gift, they are "drunk" on the grace and forgiveness shown to them.   We gather at the Table of the Lord to worship and be fed, and to go forth to be Christ's body (and blood) in the world.   And, according to St. Thomas, to be a little tipsy with the awesome privilege that prompts our response.
                                                                                                                                                                                S Roberta Bailey, OSB