This weekend's Gospel is asking us to take a good look at ourselves.  The tree in the parable is showing signs of life but it bears no fruit.  We ask ourselves: Is that me?  Am I barely managing to "hang in there?"   Am I being called to more than that?  Yes, God has higher hopes for each of us,  if we will but give grace a chance.
We can ask ourselves, for instance,
Am I a good or sour influence within my community (or my family circle)?
How do I relate with outsiders? Is my presence a positive element or do I fall into the gossip and negativity trap?  Do I pass judgment without giving God credit for knowing the whole story?
What is my attitude towards people I do not know or who aren't "useful" to me?
What kind of contribution (including being physically present) do I make to the life of this community?
In general, what kind of contribution do I make to our greater society? What COULD I be doing?
We need to realize that God always and everywhere loves us.  But that love is only fully comple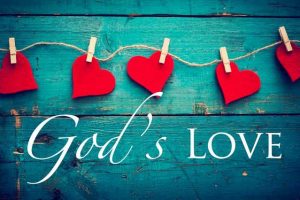 ted in us when we become a genuinely loving and caring person, one who loves both God and others in word and action.  We have the choice to open ourselves and come closer to God, to experience the gift of LOVE personified in Jesus.  The choice is up to us.  God's love is there for the taking.  What are you waiting for?
Today we will celebrate St. Benedict's day – in muted tones since it's Lent.  Benedict is recognized as a man of great wisdom, compassion and common sense.  It is the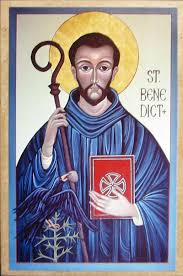 spirit of Benedict's Rule that has survived because Benedict, even in his youth, had a deep understanding of human psychology.  A glimpse into his early years lets us know he spent much time with his grandparents who lived a few miles from his home.  Along the hilly trek to their summer home, he and his twin sister Scholastica passed the huts and caves where hermits lived.  You can bet that their curiosity would have brought them back over the years to visit with both male and female hermits.  It is evident from the Rule that Benedict absorbed the wisdom and practical advice from this older generation.  He tempers discipline with compassion and he recognizes the spiritual quest as a joyful pursuit of God within the structures of ordinary life.  It is this joyous delight in everyday spirituality that makes the Rule come alive for so many.
Portions of his Rule shows us he had the cultivation traits of the gardener in our Gospel having mercy on his fruitless fig tree.  We know that after some time of living with his original Rule, he added advice based on his lived experience with a great variety of characters.  Imagine having to warn his men not to sleep with knives, to wear clean underwear on a trip.  His prudence shines through when, in so many words, he says: this is what works for us now – if our daily schedule and the details of communal living -don't fit your situation, adapt it.
Pope Francis has reminded us more than once of something we know deep down – sometimes, especially in the midst of trouble – we tend to forget.  He says: "There are no situations we cannot get out of.  We are not condemned to sink into quicksand, in which the more we move the deeper we sink.  Jesus is (always) there, his hand extended, ready to reach out to us and pull us out of the mud, out of sin, out of the abyss of evil into which we have fallen.  We need only to ask for the grace to recognize ourselves as sinners."
The barren fig tree in today's reading is given a reprieve.  It is allowed another chance to respond favorably and to produce fruit.  Every Lenten season offers us a chance to fertilize our tree, the tree which is our life, and to see how it can be more fruitful.  For some of us, we just don't know, this may indeed be the last-chance year, the last Lent to take care of our tree and coax it to produce new life.  Our God is tickling our finger tips.  What are we waiting for?
~ Reflection by Sister Roberta Bailey, OSB, Prioress
First Reading:  Exodus 3:1-8a,13-15     Second Reading:  1 Corinthians 10:1-6,10-12
Gospel:  Luke 13:1-9