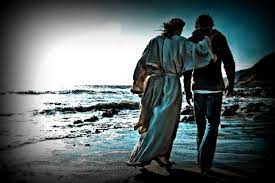 Throughout the Easter season abiding love has been the dominant and obvious theme in our Gospel readings.  We've been told: "I will not leave you orphans."  Why?  "So that my joy might be in you and your joy may be complete." The intimate, reassuring message is, "I call you friends."  This is quite a concept to grapple with.  "Friends" describes a relationship between two equals.
On the night He was betrayed Jesus made a big deal about calling the disciples "friends."  That's perhaps something we don't often think a great deal about: Jesus making friends.  We think of Jesus as kind, compassionate, and tender.  We think of Him holding and hugging children, touching the person with leprosy and blind eyes, teaching and preaching.  But do we consider that this truly human being also had friendships?  We might have a hard time visualizing Jesus walking, talking, and laughing, sharing a joke, recalling with his friends a funny incident they'd shared.  Can we see Jesus and His disciples sitting up late into the night around a dying fire, chatting quietly in the darkness counting the stars, then one-by-one falling asleep as the fire turns to embers?
What makes a friend a "friend"?  Think about your friends.  Friends have common interests and goals.  Friends work together, socialize together.  Friends share time, space and stories.  Friends listen, often share personal and private information about themselves.  Friends are there to celebrate with you.  They are there to cry with you.  Friends think about you when others don't. Friends take care of you.  Friends don't laugh at your dreams and they tell you theirs.  Friends bail you out of awkward situations, cover for your mistakes when for example you intone the wrong antiphon or psalm.  When you play the wrong hymn, they recognize the mistake and quickly change gears to match your melody.   They set the buffet table for you when you forget that you are the server.  Friends sit at the table for a few extra minutes and are quietly thankful that Divine Providence has chosen these people, at this time and place to befriend you.  Friends are alert to anticipate your needs and they aren't disappointed when you overlook theirs.  It comes down to this: you like the person you are when you are with your friends.
Jesus calls each of us "friend."  But do we treat Jesus as a friend?  When have I abused or betrayed this special friendship?  When have I ignored our friendship?  In what ways do I demand that my friend Jesus do more for me than I would do for Him?  Jesus' humbly served others.  Is that my attitude or do I try to get others to do things for me?  Do I play tit-for-tat and make bargains with God?  I promise if You do this, I'll do that.
Jesus looks for ways to get together with me in my daily life.  He offers me opportunities in Word and Sacrament.  Do I take advantage of these opportunities?  Or do I figure out ways to avoid time with Jesus?  I know Jesus hears my prayers.  How often do I talk to Him in prayer?  Jesus goes in search of people to talk to.  Would I rather not leave my comfort zone?  Jesus tells me the secrets of salvation.  Do I trust Him with my secrets, even my secret sins?
Jesus gifts us with His constant companionship.  Consider this: If I am faithful solely to community prayer times, that's approximately 14 hours a week.  How much of the remaining 154 hours a week do I spend with my divine companion?  Jesus truly is at our beck and call.  Let us pray to remain in this friendship and strive daily to be a true friend to our God.
~Reflection by Sister Roberta Bailey, OSB
First Reading:  Acts 8:5-8, 14-17         Second Reading:  1 Peter 3:15-19
Gospel:   John 14:15-21