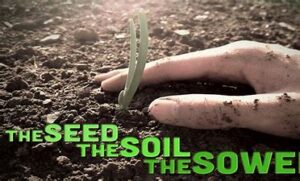 I invite you to consider, as you do lectio with this Gospel: Which am I?  Am I the sower, the seed, the soil or a plain old weed?  Or perhaps it would be better to ask: when am I like a weed needling others or jabbing them like a thorn?  When have I been the sower of good seed?  How have I been the seed that blossomed in another?  And, please, God, may I always be good soil, receptive to the good seed you freely scattered all around me… often right at my feet in the rhythm of my day.  May my ears be attentive to your voice, my eyes only take in the good and my voice be an instrument to further Your kingdom.
In Jesus' story the sower spreads good seed in the field expecting a healthy wheat harvest.  But in the dark of night an enemy comes and sows weeds in among the wheat.  So when the seedlings begin to sprout the workers in the field see that something is amiss.  Those are not all wheat plants – what are they?  How'd they get there?
A little knowledge of botany will help us.   Matthew uses a Greek word for a botanical term that can be interpreted: wild rice grasses, or cockles.  Maybe in Florida it would remind us "sandspurs" – those icky, prickery round blooms – hard-to-get off with bare hands.  [A tip: wet your fingers before you try to grab hold of a sandspur.]  The difference between the wheat and cockles is evident only when the plants mature and the ears begin to appear.  With real wheat the ears will be so heavy they droop.  Cockle, on the other hand, has ears that stand up straight.
Now, when the field hands call this to the owner's attention they are advised: "Let them grow up together until the harvest."  That reminded me of the expression "accept the thorns among the roses" or "You gotta take a little bad along with the good."  Intrigued, and with a little time to spare, I checked what Google could turn up.  This next one, Google said, only a born and bred Vermonter would say: "just because a cat has her kittens in the oven don't make them biscuits."
That reminded me of story that was related to me recently by a pastor-farmer-friend who had visited in a nearby town.  Before the days of COVID, he'd accepted an invitation to join the ministerial breakfast meeting.  It being March 16, and the feast of St. Isadore the farmer, they'd called upon a local pastor who was a member of one of Florida's oldest ranching families to offer the invocation and meal blessing.
He was decked out in his typical attire: bib overalls, a baggy denim shirt, grasping a floppy straw hat.  "Please bow your heads as we ask God's blessing," he began and then waited for his table companion to clear his voice.  (Or, was he stifling a laugh?)  Our prayer leader went on: in a strong, reverent voice:
"Lord, you know I hate buttermilk".  My friend opened one eye to peek at   the farmer and wondered where this was going.
The farmer loudly proclaimed, "And, Lord, I hate lard."  Now my pastor-friend was growing concerned – wondered if those who knew him realized their friend was losing it.   Without missing a beat, the farmer continued, "And Lord, you know I don't much care for raw white flour."
My friend again opened an eye, but this time to glance around at everyone seated with him at table.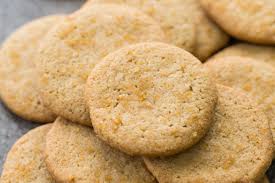 He realized that he wasn't the only one beginning to feel uncomfortable.  The Pastor-Farmer just went right on: "But Lord, when you mix them all together and bake them, I do love those warm fresh biscuits."
He paused a second,  lifted a hand, raised his eyes, and with a beatific smile, prayed on …"So Lord, when things come up that we don't like, when life gets hard, when we don't understand what you're saying to us, help us to just relax and wait until you are done mixing.  It will probably be even better than biscuits."   AMEN
~Reflection by Sister Roberta Bailey, OSB, Prioress
Wisdom 12-13, 16-19  Romans 8:26-27       Matthew 13:24-30