This Gospel tells us that Jesus is hampered from performing miracles in Nazareth because of the people's lack of faith.  We see a very human side of Jesus.  He seems to be taken by surprise.  His family seems to be sending the message every child dreads to hear, especially from mom or dad: "Stop embarrassing us.  Act your age."
Can you recall a time when a parent, teacher, novice mistress or maybe a friend seemed surprised by your words or an action that showed a level of maturity beyond their expectations?  In family life, and hopefully in our community, we rightfully expect a safe place to discover who we are and who God is calling us to be.
Does a time come to mind when you were surprised by someone you thought you knew saying something really wise, insightful or maybe just plain "off the wall" but so smart?  Why were you surprised?  Or was it not surprise, but impressive and pleasant to see a different aspect of that person.  It happens in my role frequently – A Sisters' sharing gives me a peak into her depth of lectio, her expression of a deep spirituality puts me to shame or at the very least reminds me what a treasure we have in community.
Now it is interesting to note, that where the evangelist uses the word "offense" the Greek origin is "stumbling block."  And that it seems to me is closer to what is happening here.  Jesus' audience were scratching their heads and tripping over themselves trying to understand how this young whippersnapper from Nazareth could be so wise.  Up to this point, like most good Jews, he had kept a low profile.  Jesus' family and friends were scared for him.   There was an emotional stumbling block interfering with them openly being a Jesus follower.
What stumbling block sometimes prevents you from speaking up in defense of Jesus, of our faith or our Benedictine values?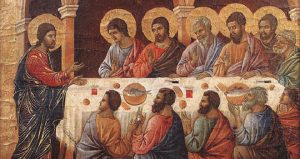 I was drawn back to the first reading from Ezekiel.  I wanted to say to Jesus when he seemed stymied by the crowd's reaction to his teaching – Remember what Ezekiel said: The spirit entered into me and set me on my feet, and I heard the one who was speaking say to me: Son of man, I am sending you to the Israelites…  whether they resist or rebel or are obstinate of heart, it is you I am sending.  Say to them, whether you heed or resist, it is I whom God has sent – I am a prophet among you."
The crowds used all the time-honored dismissive ways …  we know them, we have been targets – or sadly we may have employed them: belittling remarks, the covert laugh, the rolled eyes, the turning away of attention, or making light of the other's knowledge – the attitude that says: who does she think she is?
Ultimately, what didn't happen in Nazareth: no healings, no mighty deeds, is not much of a surprise.  After all a miracle is not just an event but it is an interpreted event.  If Jesus is not reputed to be capable of healing, any healing that does take place won't be attributed to him.  So the crowd's attitude is "there's nothing here to see.  Let's just move along, move along… and find some other excitement."
Such is true with us, with our community.  Our guests don't experience peace and harmony, generosity of spirit and light-heartedness, beauty in nature and liturgy if they don't find it in each of us.  They come expecting a miracle – the miracle happens in our interactions – first with each other, then between us and our guests.
Remember Jesus question to this disciples: Who do people say I am?  And, you: who do you say I am?"  Who do you say these Benedictine Sisters of Florida are?
If I remembered well the music, I'd sing to you the tune from the rock opera popular in the 1970's –
"Jesus Christ, Superstar – Do you think you're what they say you are?"
Benedictine Sisters of Florida, do you think you're what they say you are?
Are you really who you say you are?
Are you really who they say you are?
~Reflection by Sister Roberta Bailey, OSB, Prioress
First Reading  Ezekiel 2:2-5                Second Reading  2 Corinthians 12:7-10
Gospel Mark 6:1-6