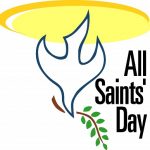 This week we will celebrate All Saints Day and All Souls day.  The Festival of All Saints is a reminder of ordinary people who became extraordinary.  This feast reminds us also that we who are ordinary are called to be extraordinary. We take care not to water down this hard challenge Jesus holds out to us.
At first the celebration of All Saints was strictly the celebration of the martyrs, the thousands who were faithful, whatever the cost, through the church's humble, terrible early years of persecution.  Did you know, or ever stop to think that more Christians were martyred in the past hundred years than in all previous history combined.  Most of these martyrs are unnamed.
Another group of "saints" we do well to remember this week are all the innocent victims of abortion and of war –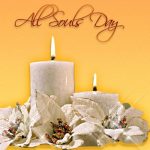 civilians and soldiers.  And the staggering number of victims of domestic violence: 1 in 3 women and 1 in 5 men.  Since Sept. 11, 2001, more women have been killed by "intimate partners" than all of the victims in 9/11 and the American victims in the wars in Iraq and Afghanistan.  In Pasco County alone, in the past year there were 3700 reported cases of domestic violence.
These people are especially in our minds this week.  We acknowledge our debt to them and we thank God for making us members of such a family, with such a heritage – causing us to be proud and humble in the same instant.
The sign by which you can recognize our "living saints" is the readiness with which their water-pots, like the woman at the well, are lowered to quench another's thirst.  The cup of cold water is offered in Christ's name for only He can give the living water for the human soul.  We, his people, imitate him in pouring out the oil of kindness to any who need it.
Which finally brings us to the message in this weekend's Gospel.  The whole lesson in Jesus' teachings is summed up in two commandments: Love the Lord, your God with your whole being and love your neighbor as yourself."
I invite you this week to ponder how well you fulfill these two commandments – which is really one mandate.  With that background, ponder the Beatitudes in the Gospel from Matthew for All Saints day.  Imagine, then, yourself on that hillside with Jesus – seated in the midst of the crowd with a good view of Jesus.  Now write down what you hear – your own version of the Beatitudes.
(For example BEATITUDES)
Looking at the rich man and his wife in peasant dress, who have a reputation for generosity, Jesus said: Blessed are the poor in spirit, the kingdom of God is theirs.
Seeing the family whose mother had recently died in childbirth, Jesus said: Bless are the sorrowing, they shall be comforted.
Turning to the family caring so compassionately for their only child who is in a wheelchair, Jesus said: Blessed are the lowly; they shall inherit the land.
Seeing some of John's disciples, and sensing the people's hunger for His words – inattentive to their own bodily hunger and thirst, Jesus said: Blest are they who hunger and thirst for holiness, they shall have their fill.
And seeing an old woman gently soothing a fretting infant so a young mother can rock her toddler to sleep, Jesus said: Bless are they who show mercy, mercy shall be theirs.
And looking at his disciples, knowing their desire to be always in His presence, Jesus said: Blest are the single-hearted for they shall see God.
Spotting a young father rolling a yarn ball back and forth to his two young sons who were squabbling over the ball, Jesus said: Blest are the peacemakers; they shall be called children of God.
Looking at the church officials who dared to follow him, Jesus said: Blessed are those who are persecuted for holiness sake; the reign of God is theirs.
Then Jesus speaks to you and to all the people: Blest are YOU when they insult you and persecute and have every kind of slander uttered against you because of me:  Be glad and rejoice, for your reward is great in heaven!
~Reflection by Sister Roberta Bailey, OSB, Prioress
30th Sunday – October 29, 2017              First Reading: Exodus 22:20-26                Second Reading: 1 Thessalonians 1:5c-10
Gospel Matthew 22:34-40   (Also see All Saints Day Matthew 5:1-12a)