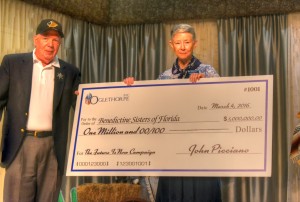 The Benedictine Sisters of Florida's Hoedown event on March 4th was over-the-top!  Over 160 attendees enjoyed good food, home-made desserts, square and line dancing, auction bidding and awesome entertainment.  It was fun for all ages!
With country music accompaniment, Faith Pridmore in boots and cowgirl hat boot-scooted across the stage to introduce John Picciano, chair of the Future is Now Campaign.  The purpose of the $1,650,000 campaign is to fund an additional wing onto Holy Name Monastery.  We have been challenged soon after the building the new Holy Name Monastery in 2014 to have enough rooms for large groups wanting to stay for a 2, 3, or 4 day retreat and women desiring a live-in experience with our Order.
As a graduate of Saint Leo University and former priest with the Orlando Diocese, John shared his feelings about the Sisters and their influence on his life.   Then he called Sister Roberta to the stage and presented a $1 Million check for the Sisters and their construction project!
 John Picciano has been a friend of the community since his days as a student at Saint Leo University.  He is the CEO of Oglethorpe, Inc., an inpatient multi-hospital system dedicated to substance abuse care and counseling.  John has been doing God's work helping individuals and families throughout his career.  His profound gift brings the total raised for the campaign as of March 4, 2016 to $1,329,896.  God is good!
Of course with the presentation, a standing ovation followed, red napkins encircled heads and the party really got started!  $1 Million Dollars got lots of people up danc'in!
With just $320,104 to go, please consider being a part of helping the Benedictine Sisters of Florida spread God's Word to all those who come seeking spiritual guidance, peace and love.