Annual Signature Event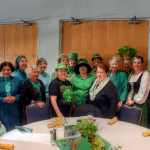 In February or March each year we hold a gala fundraising dinner/dance event to support our mission, ministries and programs.  We welcome all to attend!  You can also help with a sponsorship or the variety of volunteer jobs including our Silent Auction, decorations, desserts, registration, check-out and more.
Pictured at left are the Sisters and staff dressed for our Blessings of Green Dinner Dance celebrating our Aquaponics farming and Saint Paddy's Day.
Thanksgiving Dinner

We are one of very few organizations that serve the poor and/or those alone on Thanksgiving Day.  There are volunteer opportunities to donate food; help us with meal preparation; pack and deliver meals; and/or set-up, serve and clean-up. Dinner is served from 2:00 to 3:00 pm at St. Anthony's Parish Hall, San Antonio, Florida. Call the Monastery at (352) 588-8443 if you would like to volunteer and/or donate.  Volunteers often join us for the dinner as well.  All those who participate in this day truly feel a sense of fellowship and thanks giving.
Lenten Soup Supper
An evening that benefits DayStar Hope, a local food pantry for the needy. You can be a part of the soup supper by donating food and alms and/or join the Sisters in contributing volunteer time at DayStar .
Christmas Adopt a Senior
Contribute food and wrapped gifts for seniors who would not otherwise have a Christmas to remember.  We also provide gifts for the elderly at a nearby nursing home where one of our Sisters resides.
Food Angels
The volunteer workers at Habitat for Humanity love Sister Donna's home-based bread. Help is needed with food donations and preparation – learn to make bread too!
 Candlelight Vigil for Domestic Violence and Abuse Victims
Increasing awareness of abuse and family violence is ongoing. For an impactful statement to be made, numbers of attendees are key. Your presence and prayers at a vigil bring hope to frightened women and children at a time when hope is what they desperately need.
Offering of Letters to Congress
Turn this dream into a reality by adding your voice to ours and Bread for the World. Write a personal letter or letters to representatives in Congress about the need to end hunger. Email or call us and we'll provide state representatives' names, addresses and sample letter. Can we count on you?